Package: kbibtex (0.4.1-1 and others)
Links for kbibtex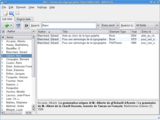 Debian Resources:
Download Source Package kbibtex:
Maintainers:
External Resources:
Similar packages:
Experimental package
Warning: This package is from the experimental distribution. That means it is likely unstable or buggy, and it may even cause data loss. Please be sure to consult the changelog and other possible documentation before using it.
BibTeX editor for KDE
An application to manage bibliography databases in the BibTeX format. KBibTeX can be used as a standalone program, but can also be embedded into other KDE applications (e.g. as bibliography editor into Kile).
KBibTeX can query online resources (e.g. Google scholar) via customizable search URLs. It is also able to import complete datasets from NCBI Pubmed. It also supports tagging references with keywords and manages references to local files.
BibTeX files can be exported into HTML, XML, PDF, PS and RTF format using a number of citation styles.
Other Packages Related to kbibtex
dep:

kde-runtime [alpha, powerpcspe, ppc64, sh4, x32]

runtime components from the official KDE release

dep:

kde-runtime (>> 4:4.10) [not alpha, powerpcspe, ppc64, sh4, x32]

dep:

libc0.1 (>= 2.17-91) [kfreebsd-amd64, kfreebsd-i386]

GNU-C-kirjasto: jaetut kirjastot
also a virtual package provided by libc0.1-udeb

dep:

libc0.3 (>= 2.12) [hurd-i386]

GNU-C-kirjasto: jaetut kirjastot
also a virtual package provided by libc0.3-udeb

dep:

libc6.1 (>= 2.1.3) [alpha]

GNU-C-kirjasto: jaetut kirjastot
also a virtual package provided by libc6.1-udeb

dep:

libgcc1 [powerpcspe, x32]

GCC:n apukirjasto

dep:

libgcc1 (>= 1:4.1.1) [not arm64, armel, armhf, hppa, hurd-i386, powerpcspe, x32]

dep:

libgcc1 (>= 1:4.4.0) [armel, armhf]

dep:

libgcc1 (>= 1:4.7) [arm64]

dep:

libgcc1 (>= 4.2.1) [hurd-i386]

dep:

libgcc4 (>= 4.1.1) [hppa]

GCC:n apukirjasto

dep:

libkdecore5 (>= 4:4.4.4-2~)

KDE Platform Core Library

dep:

libkdeui5 (>= 4:4.4.0)

KDE Platform User Interface Library

dep:

libkfile4 (>= 4:4.3.4)

File Selection Dialog Library for KDE Platform

dep:

libkio5 (>= 4:4.4.0)

Network-enabled File Management Library for the KDE Platform

dep:

libkparts4 (>= 4:4.5.85)

Framework for the KDE Platform Graphical Components

dep:

libnepomuk4 (>= 4:4.3.4)

Nepomuk Meta Data Library

dep:

libnepomukutils4 (>= 4:4.5.85)

Nepomuk Utility Library

dep:

libpoppler-qt4-3 (>= 0.18) [powerpcspe, ppc64, sh4, x32]

Package not available

dep:

libpoppler-qt4-4 (>= 0.20.1) [not powerpcspe, ppc64, sh4, x32]

PDF rendering library (Qt 4 based shared library)

dep:

libqt4-dbus (>= 4:4.5.3)

Qt 4 D-Bus module

dep:

libqt4-network (>= 4:4.5.3)

Qt 4 network module

dep:

libqt4-svg (>= 4:4.5.3)

Qt 4 SVG module

dep:

libqt4-xml (>= 4:4.5.3)

Qt 4 XML module

dep:

libqtcore4 (>= 4:4.7.0~beta1) [not sh4]

Qt 4 core module

dep:

libqtcore4 (>= 4:4.8.2+dfsg-5) [sh4]

dep:

libqtgui4 (>= 4:4.8.0)

Qt 4 GUI module

dep:

libqtwebkit4 (>= 2.1.0~2011week13) [not sh4]

Web content engine library for Qt

dep:

libsoprano4 (>= 2.1.1)

libraries for the Soprano RDF framework

dep:

libstdc++6 [powerpcspe, x32]

GNU standardi C++ -kirjasto, versio 3

dep:

libstdc++6 (>= 4.1.1) [not armel, armhf, powerpcspe, x32]

dep:

libstdc++6 (>= 4.3.0) [armel, armhf]

dep:

libxml2 (>= 2.7.4)

XML-kirjasto Gnomelle

dep:

libxslt1.1 (>= 1.1.25)

XSLT 1.0 processing library - runtime library
Download kbibtex
Download for all available architectures

| Architecture | Version | Package Size | Installed Size | Files |
| --- | --- | --- | --- | --- |
| alpha (unofficial port) | 0.4.1-1 | 598.6 kB | 2,197.0 kB | [list of files] |
| amd64 | 0.4.1-1+b1 | 449.4 kB | 1,856.0 kB | [list of files] |
| arm64 | 0.4.1-1+b1 | 395.3 kB | 1,802.0 kB | [list of files] |
| armel | 0.4.1-1+b1 | 415.1 kB | 1,707.0 kB | [list of files] |
| armhf | 0.4.1-1+b1 | 406.1 kB | 1,323.0 kB | [list of files] |
| hppa (unofficial port) | 0.4.1-1 | 464.5 kB | 2,116.0 kB | [list of files] |
| hurd-i386 | 0.4.1-1+b1 | 504.6 kB | 2,014.0 kB | [list of files] |
| i386 | 0.4.1-1+b1 | 500.8 kB | 1,864.0 kB | [list of files] |
| kfreebsd-amd64 | 0.4.1-1+b1 | 448.8 kB | 1,726.0 kB | [list of files] |
| kfreebsd-i386 | 0.4.1-1+b1 | 502.1 kB | 1,880.0 kB | [list of files] |
| mips | 0.4.1-1+b1 | 380.7 kB | 2,017.0 kB | [list of files] |
| mipsel | 0.4.1-1+b1 | 387.8 kB | 2,008.0 kB | [list of files] |
| powerpc | 0.4.1-1+b1 | 395.9 kB | 1,855.0 kB | [list of files] |
| powerpcspe (unofficial port) | 0.4.1-1 | 581.2 kB | 1,547.0 kB | [list of files] |
| ppc64 (unofficial port) | 0.4.1-1 | 624.4 kB | 2,146.0 kB | [list of files] |
| ppc64el | 0.4.1-1+b1 | 405.0 kB | 1,932.0 kB | [list of files] |
| s390x | 0.4.1-1+b1 | 468.3 kB | 2,211.0 kB | [list of files] |
| sh4 (unofficial port) | 0.4.1-1 | 709.2 kB | 1,911.0 kB | [list of files] |
| x32 (unofficial port) | 0.4.1-1 | 597.4 kB | 1,660.0 kB | [list of files] |