Paketti: gtk-3-examples (3.24.8-1) [debports]
Links for gtk-3-examples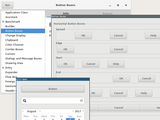 Debian-palvelut:
Imuroi lähdekoodipaketti :
Ei löytynyt
Ylläpitäjät:
External Resources:
Samankaltaisia paketteja:
Kokeellinen paketti
Varoitus: Tämä paketti on kokeellisesta jakelusta. Tämä tarkoittaa, että se on luultavasti epävakaa tai buginen, ja voi aiheuttaa jopa tiedonhäviötä. Kannattaa ehdottomasti tutustua muutoslokiin ja muihin mahdollisiin ohjeisiin ennen käyttöönottoa.
example files for GTK+ 3
GTK+ is a multi-platform toolkit for creating graphical user interfaces. Offering a complete set of widgets, GTK+ is suitable for projects ranging from small one-off tools to complete application suites.
This package contains the example files and a demonstration program for GTK+3. It also contains the installed tests.
Muut pakettiin gtk-3-examples liittyvät paketit
Imuroi gtk-3-examples
Imurointi kaikille saataville arkkitehtuureille

| Arkkitehtuuri | Paketin koko | Koko asennettuna | Tiedostot |
| --- | --- | --- | --- |
| powerpcspe (epävirallinen siirros) | 1,706.4 kt | 17,075.0 kt | [tiedostoluettelo] |