Paketti: file-roller (3.37.90-1 ja muut)
Links for file-roller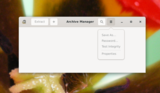 Debian-palvelut:
Imuroi lähdekoodipaketti file-roller:
Ylläpitäjät:
External Resources:
Samankaltaisia paketteja:
Kokeellinen paketti
Varoitus: Tämä paketti on kokeellisesta jakelusta. Tämä tarkoittaa, että se on luultavasti epävakaa tai buginen, ja voi aiheuttaa jopa tiedonhäviötä. Kannattaa ehdottomasti tutustua muutoslokiin ja muihin mahdollisiin ohjeisiin ennen käyttöönottoa.
archive manager for GNOME
File-roller is an archive manager for the GNOME environment. It allows you to:

 * Create and modify archives.
 * View the content of an archive.
 * View a file contained in an archive.
 * Extract files from the archive.

File-roller supports the following formats:

 * Tar (.tar) archives, including those compressed with
   gzip (.tar.gz, .tgz), bzip (.tar.bz, .tbz), bzip2 (.tar.bz2, .tbz2),
   compress (.tar.Z, .taz), lzip (.tar.lz, .tlz), lzop (.tar.lzo, .tzo),
   lzma (.tar.lzma) and xz (.tar.xz)
 * Zip archives (.zip)
 * Jar archives (.jar, .ear, .war)
 * 7z archives (.7z)
 * iso9660 CD images (.iso)
 * Lha archives (.lzh)
 * Archiver archives (.ar)
 * Comic book archives (.cbz)
 * Single files compressed with gzip (.gz), bzip (.bz), bzip2 (.bz2),
   compress (.Z), lzip (.lz), lzop (.lzo), lzma (.lzma) and xz (.xz)

File-roller can extract following formats:

 * Cabinet archives (.cab)
 * Debian binary packages (.deb)
 * Xar archives (.xar)

File-roller doesn't perform archive operations by itself, but relies on standard tools for this.
Muut pakettiin file-roller liittyvät paketit
rec:

gvfs

Ytimen ulkopuolisen muistialueen näennäistiedostojärjestelmä - GIO-moduuli

rec:

yelp

Help browser for GNOME
sug:

arj

Arkistoija arj-tiedostoja varten

sug:

lha

Paketti ei saatavilla

sug:

lzip

lossless data compressor based on the LZMA algorithm

sug:

lzop

fast compression program

sug:

ncompress

original Lempel-Ziv compress/uncompress programs

sug:

rpm2cpio

tool to convert RPM package to CPIO archive

sug:

rzip

compression program for large files

sug:

sharutils

shar, unshar, uuencode, uudecode

sug:

squashfs-tools

Tool to create and append to squashfs filesystems

sug:

unace

extract, test and view .ace archives

sug:

unalz

De-archiver for .alz files

sug:

unar

Unarchiver for a variety of file formats

sug:

unzip

Pura .zip-arkistoja

sug:

xz-utils

XZ-tiedostomuodon pakkaustyökalut

sug:

zip

Zip-tiedostojen pakkaaja

sug:

zoo

Paketti ei saatavilla
Imuroi file-roller
Imurointi kaikille saataville arkkitehtuureille

| Arkkitehtuuri | Versio | Paketin koko | Koko asennettuna | Tiedostot |
| --- | --- | --- | --- | --- |
| amd64 | 3.37.90-1 | 700.7 kt | 4,659.0 kt | [tiedostoluettelo] |
| arm64 | 3.37.90-1 | 682.1 kt | 4,647.0 kt | [tiedostoluettelo] |
| armel | 3.37.90-1 | 666.6 kt | 4,543.0 kt | [tiedostoluettelo] |
| armhf | 3.37.90-1 | 668.3 kt | 4,431.0 kt | [tiedostoluettelo] |
| i386 | 3.37.90-1 | 720.0 kt | 4,731.0 kt | [tiedostoluettelo] |
| m68k (epävirallinen siirros) | 3.37.90-1 | 683.6 kt | 4,619.0 kt | [tiedostoluettelo] |
| mips64el | 3.37.90-1 | 672.5 kt | 4,731.0 kt | [tiedostoluettelo] |
| mipsel | 3.37.90-1 | 676.8 kt | 4,728.0 kt | [tiedostoluettelo] |
| powerpcspe (epävirallinen siirros) | 3.32.1-1 | 649.1 kt | 4,521.0 kt | [tiedostoluettelo] |
| ppc64 (epävirallinen siirros) | 3.37.90-1 | 707.6 kt | 5,071.0 kt | [tiedostoluettelo] |
| ppc64el | 3.37.90-1 | 710.2 kt | 4,943.0 kt | [tiedostoluettelo] |
| riscv64 (epävirallinen siirros) | 3.37.90-1 | 667.3 kt | 4,499.0 kt | [tiedostoluettelo] |
| s390x | 3.37.90-1 | 683.4 kt | 4,691.0 kt | [tiedostoluettelo] |
| sh4 (epävirallinen siirros) | 3.37.90-1 | 711.6 kt | 4,571.0 kt | [tiedostoluettelo] |
| sparc64 (epävirallinen siirros) | 3.37.90-1 | 659.2 kt | 4,614.0 kt | [tiedostoluettelo] |
| x32 (epävirallinen siirros) | 3.37.90-1 | 701.4 kt | 4,615.0 kt | [tiedostoluettelo] |