Paketti: xserver-xephyr (2:1.20.3-1)
Links for xserver-xephyr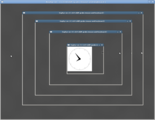 Debian-palvelut:
Imuroi lähdekoodipaketti xorg-server:
Ylläpitäjä:
External Resources:
Samankaltaisia paketteja:
nested X server
Xephyr is an X server that can be run inside another X server, much like Xnest. It is based on the kdrive X server, and as a result it supports newer extensions than Xnest, including render and composite.
More information about X.Org can be found at: <URL:https://www.x.org>
This package is built from the X.org xserver module.
Muut pakettiin xserver-xephyr liittyvät paketit
rec:

libgl1-mesa-dri (>= 7.1~rc1)

free implementation of the OpenGL API -- DRI modules
Imuroi xserver-xephyr
Imurointi kaikille saataville arkkitehtuureille

| Arkkitehtuuri | Paketin koko | Koko asennettuna | Tiedostot |
| --- | --- | --- | --- |
| amd64 | 3,038.0 kt | 4,595.0 kt | [tiedostoluettelo] |
| arm64 | 2,973.7 kt | 4,582.0 kt | [tiedostoluettelo] |
| armel | 2,881.9 kt | 4,239.0 kt | [tiedostoluettelo] |
| armhf | 2,887.8 kt | 3,615.0 kt | [tiedostoluettelo] |
| i386 | 3,097.2 kt | 4,808.0 kt | [tiedostoluettelo] |
| mips | 2,925.1 kt | 4,747.0 kt | [tiedostoluettelo] |
| mips64el | 2,936.6 kt | 4,895.0 kt | [tiedostoluettelo] |
| mipsel | 2,936.7 kt | 4,751.0 kt | [tiedostoluettelo] |
| ppc64el | 3,130.1 kt | 5,494.0 kt | [tiedostoluettelo] |
| s390x | 2,952.9 kt | 4,771.0 kt | [tiedostoluettelo] |