Paketti: tango-icon-theme (0.8.90-7)
Links for tango-icon-theme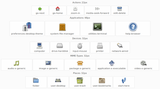 Debian-palvelut:
Ylläpitäjä:
External Resources:
Samankaltaisia paketteja:
Tango icon library
This package contains the icons made by the Tango project.
The project's aim is to create a cross-desktop and cross-platform icon theme following the Icon Naming Specification by the Freedesktop project. The icons follow a standard and consistent style guide to look coherent.
Muut pakettiin tango-icon-theme liittyvät paketit
sug:

gnome-icon-theme

GNOME Desktop icon theme

sug:

kdelibs-data

Paketti ei saatavilla
Imuroi tango-icon-theme
Imurointi kaikille saataville arkkitehtuureille

| Arkkitehtuuri | Paketin koko | Koko asennettuna | Tiedostot |
| --- | --- | --- | --- |
| all | 1,225.0 kt | 11,068.0 kt | [tiedostoluettelo] |