Paketti: lxterminal (0.3.2-1)
Links for lxterminal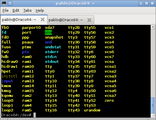 Debian-palvelut:
Imuroi lähdekoodipaketti lxterminal:
Ylläpitäjät:
External Resources:
Samankaltaisia paketteja:
LXDE terminal emulator
LXTerminal is a VTE-based terminal emulator for the Lightweight X11 Desktop Environment (LXDE).
It supports multiple tabs and has only minimal dependencies thus being completely desktop-independent. In order to reduce memory usage and increase the performance, all instances of the terminal are sharing a single process.
Muut pakettiin lxterminal liittyvät paketit