Paketti: fsviewer-icons (1.0-7)
Links for fsviewer-icons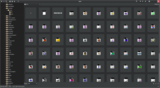 Debian-palvelut:
Ylläpitäjä:
Samankaltaisia paketteja:
icons for fsviewer to make it look more like the NeXT FileViewer
Some nice XPM icons to provide fsviewer with a more NeXT-like look, although fsviewer does run without them.
These icons are only useful if used with fsviewer, which is a lightweight standalone (no need for openstep) filemanager based on the one included with NeXTSTEP. It integrates well with Window Maker but can be used with any WM. Features include Browser mode, DND and file operations.
Icon source files are included in TIFF format.
Imuroi fsviewer-icons
Imurointi kaikille saataville arkkitehtuureille

| Arkkitehtuuri | Paketin koko | Koko asennettuna | Tiedostot |
| --- | --- | --- | --- |
| all | 333.6 kt | 1,291.0 kt | [tiedostoluettelo] |