Paketti: convertall (0.7.3-1.1)
Links for convertall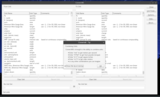 Debian-palvelut:
Imuroi lähdekoodipaketti convertall:
Ylläpitäjät:
External Resources:
Samankaltaisia paketteja:
very flexible unit converter
With ConvertAll, you can convert any unit in the large database to any other compatible unit. If you want to convert from inches per decade, that's fine. Or from meter-pounds. Or from cubic nautical miles. The units don't have to make sense to anyone else.
Muut pakettiin convertall liittyvät paketit
dep:

python3

interactive high-level object-oriented language (default python3 version)

dep:

python3-pyqt5

Python 3 bindings for Qt5
Imuroi convertall
Imurointi kaikille saataville arkkitehtuureille

| Arkkitehtuuri | Paketin koko | Koko asennettuna | Tiedostot |
| --- | --- | --- | --- |
| all | 185.2 kt | 1,379.0 kt | [tiedostoluettelo] |