Paketti: puredata (0.49.0-3)
Links for puredata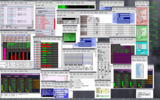 Debian-palvelut:
Imuroi lähdekoodipaketti puredata:
Ylläpitäjät:
External Resources:
Samankaltaisia paketteja:
realtime computer music and graphics system
Pure Data (also known as Pd) is a real-time graphical programming environment for audio and graphics processing. Pd's audio functions are built-in; graphical computations require separate packages such as gem (Graphics Environment for Multimedia) or pd-pdp (Pd Packet).
This is a metapackage that depends on all components of the core of Pd.
Muut pakettiin puredata liittyvät paketit
rec:

gem

Graphics Environment for Multimedia - Pure Data library
Imuroi puredata
Imurointi kaikille saataville arkkitehtuureille

| Arkkitehtuuri | Paketin koko | Koko asennettuna | Tiedostot |
| --- | --- | --- | --- |
| all | 19.4 kt | 32.0 kt | [tiedostoluettelo] |