Paketti: karlyriceditor (1.11-2.1 ja muut)
Links for karlyriceditor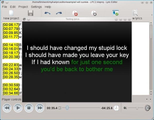 Debian-palvelut:
Ylläpitäjä:
External Resources:
Samankaltaisia paketteja:
Karaoke lyrics editor
Karlyriceditor is a Qt-based GUI application to edit, synchronize and render karaoke lyrics in popular formats, including CD+G, LRC, KaraFun, PowerKaraoke and UltraStar. It features full support for non-English languages, a built-in karaoke testing window and karaoke video rendering. It supports changing image and video backgrounds for video rendering and export.
Muut pakettiin karlyriceditor liittyvät paketit
Imuroi karlyriceditor
Imurointi kaikille saataville arkkitehtuureille

| Arkkitehtuuri | Versio | Paketin koko | Koko asennettuna | Tiedostot |
| --- | --- | --- | --- | --- |
| i386 | 1.11-2.1+b1 | 319.5 kt | 877.0 kt | [tiedostoluettelo] |