Paketti: xpaint (2.9.1.4-3.2 ja muut)
Links for xpaint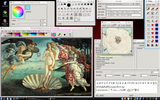 Debian-palvelut:
Imuroi lähdekoodipaketti xpaint:
Ylläpitäjä:
External Resources:
Samankaltaisia paketteja:
simple paint program for X
XPaint is suitable for producing simple graphics. It does offer some advanced features such as image processing functions and gradient fill.
In the C Script Editor of XPaint, the External editor in the File menu will invoke x-terminal-emulator -e sensible-editor.
The gv package will be needed for PDF/PS reading, netpbm will be needed for external conversion, lpr for printing.
Muut pakettiin xpaint liittyvät paketit
Imuroi xpaint
Imurointi kaikille saataville arkkitehtuureille

| Arkkitehtuuri | Versio | Paketin koko | Koko asennettuna | Tiedostot |
| --- | --- | --- | --- | --- |
| amd64 | 2.9.1.4-3.2+b1 | 480.0 kt | 1,681.0 kt | [tiedostoluettelo] |