Paketti: qiv (2.3.1-1 ja muut)
Links for qiv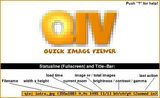 Debian-palvelut:
Imuroi lähdekoodipaketti qiv:
Ylläpitäjä:
External Resources:
Samankaltaisia paketteja:
Quick image viewer for X
Quick Image Viewer (qiv) is a very small and pretty fast GDK/Imlib image viewer. Features include zoom, maxpect, scale down, fullscreen, brightness/contrast/gamma correction, slideshow, pan with keyboard and mouse, rotate left/right, flip, delete (move to .qiv-trash/), jump to image x, jump forward/backward x images, filename filter, and you can use qiv to set your X11-Desktop background.
qiv also supports the assignment of external commands (like metacam) to unused keys.
Muut pakettiin qiv liittyvät paketit
Imuroi qiv
Imurointi kaikille saataville arkkitehtuureille

| Arkkitehtuuri | Versio | Paketin koko | Koko asennettuna | Tiedostot |
| --- | --- | --- | --- | --- |
| amd64 | 2.3.1-1+b1 | 78.0 kt | 153.0 kt | [tiedostoluettelo] |