Paketti: mypaint (1.2.0-4.1)
Links for mypaint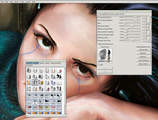 Debian-palvelut:
Imuroi lähdekoodipaketti mypaint:
Ylläpitäjät:
External Resources:
Samankaltaisia paketteja:
paint program for use with graphics tablets
MyPaint is a pressure- and tilt-sensitive painting program which works well with Wacom graphics tablets and other similar devices. It comes with a large brush collection including charcoal and ink to emulate real media, but the highly configurable brush engine allows you to experiment with your own brushes and with not-quite-natural painting.
This package contains the main program.
Muut pakettiin mypaint liittyvät paketit
Imuroi mypaint
Imurointi kaikille saataville arkkitehtuureille

| Arkkitehtuuri | Paketin koko | Koko asennettuna | Tiedostot |
| --- | --- | --- | --- |
| amd64 | 554.5 kt | 2,906.0 kt | [tiedostoluettelo] |