Paketti: gtk2-engines-cleanice (2.4.1-3)
Links for gtk2-engines-cleanice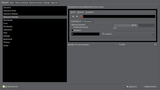 Debian-palvelut:
Ylläpitäjät:
External Resources:
Samankaltaisia paketteja:
CleanIce themes for GTK+ 2.x
This package contains a theme engine and 3 themes that allow you to configure the look of GTK+ 2.x-based programs. The programs need no modifications to use themes; the support is built in to GTK+ 2.x.
The Debian package provides these themes: CleanIce, CleanIce-Dark, CleanIce-Debian, CleanIce-Marble.
Muut pakettiin gtk2-engines-cleanice liittyvät paketit
Imuroi gtk2-engines-cleanice
Imurointi kaikille saataville arkkitehtuureille

| Arkkitehtuuri | Paketin koko | Koko asennettuna | Tiedostot |
| --- | --- | --- | --- |
| amd64 | 29.0 kt | 172.0 kt | [tiedostoluettelo] |