Paketti: redshift-gtk (1.12-4.2)
Links for redshift-gtk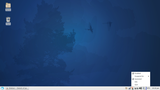 Debian-palvelut:
Imuroi lähdekoodipaketti redshift:
Ylläpitäjä:
External Resources:
Samankaltaisia paketteja:
Adjusts the color temperature of your screen -- GUI
The color temperature is set according to the position of the sun. A different color temperature is set during night and daytime. During twilight and early morning, the color temperature transitions smoothly from night to daytime temperature to allow your eyes to slowly adapt.
This package installs a graphical user interface for redshift.
Muut pakettiin redshift-gtk liittyvät paketit
rec:

at-spi2-core

Assistive Technology Service Provider Interface (dbus core)
Imuroi redshift-gtk
Imurointi kaikille saataville arkkitehtuureille

| Arkkitehtuuri | Paketin koko | Koko asennettuna | Tiedostot |
| --- | --- | --- | --- |
| all | 363.7 kt | 773.0 kt | [tiedostoluettelo] |