Paketti: python3-unyt (2.9.2-2)
Links for python3-unyt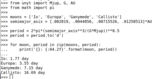 Debian-palvelut:
Imuroi lähdekoodipaketti unyt:
Ylläpitäjät:
External Resources:
Samankaltaisia paketteja:
Python package for handling numpy arrays with units
Often writing code that deals with data that has units can be confusing. A function might return an array but at least with plain NumPy arrays, there is no way to easily tell what the units of the data are without somehow knowing a priori.
The unyt package (pronounced like "unit") provides a subclass of NumPy's ndarray class that knows about units.
Muut pakettiin python3-unyt liittyvät paketit
dep:

python3

interactive high-level object-oriented language (default python3 version)

dep:

python3-numpy

Fast array facility to the Python 3 language

dep:

python3-sympy

Computer Algebra System (CAS) in Python (Python 3)
Imuroi python3-unyt
Imurointi kaikille saataville arkkitehtuureille

| Arkkitehtuuri | Paketin koko | Koko asennettuna | Tiedostot |
| --- | --- | --- | --- |
| all | 94.6 kt | 491.0 kt | [tiedostoluettelo] |