Package: lives (2.2.2~ds0-4) [debports]
Links for lives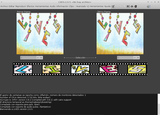 Debian Resources:
Download Source Package :
Not found
Maintainers:
External Resources:
Similar packages:
Experimental package
Warning: This package is from the experimental distribution. That means it is likely unstable or buggy, and it may even cause data loss. Please be sure to consult the changelog and other possible documentation before using it.
Video Editing system allowing users to edit and create video
LiVES is a Video Editing system allowing both novice and advanced users to edit and create video straight away. It can also be used as a VJ tool, and can be scripted and controlled remotely.
Other Packages Related to lives
rec:

dvgrab

grab digital video data via IEEE1394 and USB links

rec:

icedax

Creates WAV files from audio CDs

rec:

libogg0

Ogg bitstream library

rec:

libtheora-bin

Theora Video Compression Codec (example encoder, decoder)

rec:

libtheora0

Theora Video Compression Codec

rec:

mencoder

Package not available

rec:

mkvtoolnix

Set of command-line tools to work with Matroska files

rec:

pulseaudio

PulseAudio sound server

rec:

x11-utils

X11 utilities

rec:

youtube-dl

downloader of videos from YouTube and other sites
sug:

libdv-bin

software library for DV format digital video (sample apps)

sug:

mjpegtools

MJPEG capture/editing/replay and MPEG encoding toolset
Download lives
Download for all available architectures

| Architecture | Package Size | Installed Size | Files |
| --- | --- | --- | --- |
| hppa (unofficial port) | 834.9 kB | 2,518.0 kB | [list of files] |