Package: tmux (2.9a-1) [debports]
Links for tmux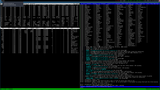 Debian Resources:
Download Source Package :
Not found
Maintainers:
External Resources:
Similar packages:
Experimental package
Warning: This package is from the experimental distribution. That means it is likely unstable or buggy, and it may even cause data loss. Please be sure to consult the changelog and other possible documentation before using it.
terminal multiplexer
tmux enables a number of terminals (or windows) to be accessed and controlled from a single terminal like screen. tmux runs as a server-client system. A server is created automatically when necessary and holds a number of sessions, each of which may have a number of windows linked to it. Any number of clients may connect to a session, or the server may be controlled by issuing commands with tmux. Communication takes place through a socket, by default placed in /tmp. Moreover tmux provides a consistent and well-documented command interface, with the same syntax whether used interactively, as a key binding, or from the shell. It offers a choice of vim or Emacs key layouts.
Other Packages Related to tmux
dep:

libc6 (>= 2.27)

GNU C Library: Shared libraries
also a virtual package provided by libc6-udeb

dep:

libevent-2.1-6 (>= 2.1.8-stable)

Package not available

dep:

libtinfo6 (>= 6)

shared low-level terminfo library for terminal handling

dep:

libutempter0 (>= 1.1.5)

privileged helper for utmp/wtmp updates (runtime)
Download tmux
Download for all available architectures

| Architecture | Package Size | Installed Size | Files |
| --- | --- | --- | --- |
| powerpcspe (unofficial port) | 278.3 kB | 752.0 kB | [list of files] |