Package: spatialite-gui (2.1.0~beta0+really2.1.0~beta0-1~exp3 and others)
Links for spatialite-gui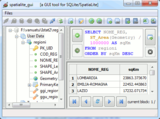 Debian Resources:
Maintainers:
External Resources:
Similar packages:
Experimental package
Warning: This package is from the experimental distribution. That means it is likely unstable or buggy, and it may even cause data loss. Please be sure to consult the changelog and other possible documentation before using it.
user-friendly graphical user interface for SpatiaLite
spatialite-gui is a Graphical User Interface (GUI) for SpatiaLite.
SpatiaLite is a SQLite extension that enables support of spatial (geometry) data in a way conformant to OpenGis specifications, with both WKT and WKB formats.
Spatialite also includes Virtualshape and Virtualtext to enable accessing shapefiles and csv/text files as virtual tables.
Other Packages Related to spatialite-gui
Download spatialite-gui
Download for all available architectures

| Architecture | Version | Package Size | Installed Size | Files |
| --- | --- | --- | --- | --- |
| alpha (unofficial port) | 2.1.0~beta0+really2.1.0~beta0-1~exp3 | 1,619.7 kB | 8,065.0 kB | [list of files] |
| amd64 | 2.1.0~beta0+really2.1.0~beta0-1~exp3 | 1,732.5 kB | 6,882.0 kB | [list of files] |
| arm64 | 2.1.0~beta0+really2.1.0~beta0-1~exp3 | 1,487.1 kB | 6,384.0 kB | [list of files] |
| armel | 2.1.0~beta0+really2.1.0~beta0-1~exp3 | 1,497.4 kB | 5,284.0 kB | [list of files] |
| armhf | 2.1.0~beta0+really2.1.0~beta0-1~exp3 | 1,541.8 kB | 4,288.0 kB | [list of files] |
| hppa (unofficial port) | 2.1.0~beta0+really2.1.0~beta0-1~exp3 | 1,502.1 kB | 5,625.0 kB | [list of files] |
| hurd-i386 | 2.1.0~beta0+really2.1.0~beta0-1~exp3 | 1,809.1 kB | 6,454.0 kB | [list of files] |
| i386 | 2.1.0~beta0+really2.1.0~beta0-1~exp3 | 1,803.2 kB | 6,446.0 kB | [list of files] |
| kfreebsd-amd64 | 2.1.0~beta0+really2.1.0~beta0-1~exp3 | 1,739.1 kB | 6,846.0 kB | [list of files] |
| m68k (unofficial port) | 2.1.0~beta0+really2.1.0~beta0-1~exp3 | 1,719.6 kB | 6,640.0 kB | [list of files] |
| mips | 2.1.0~beta0+really2.1.0~beta0-1~exp3 | 1,371.0 kB | 6,852.0 kB | [list of files] |
| mips64el | 2.1.0~beta0+really2.1.0~beta0-1~exp3 | 1,360.2 kB | 7,398.0 kB | [list of files] |
| mipsel | 2.1.0~beta0+really2.1.0~beta0-1~exp3 | 1,394.0 kB | 6,844.0 kB | [list of files] |
| powerpcspe (unofficial port) | 2.1.0~beta0+really2.1.0~beta0-1~exp2 | 1,513.0 kB | 5,936.0 kB | [list of files] |
| ppc64 (unofficial port) | 2.1.0~beta0+really2.1.0~beta0-1~exp3 | 1,607.6 kB | 7,736.0 kB | [list of files] |
| ppc64el | 2.1.0~beta0+really2.1.0~beta0-1~exp3 | 1,633.9 kB | 7,480.0 kB | [list of files] |
| riscv64 (unofficial port) | 2.1.0~beta0+really2.1.0~beta0-1~exp3 | 1,661.6 kB | 6,300.0 kB | [list of files] |
| s390x | 2.1.0~beta0+really2.1.0~beta0-1~exp3 | 1,522.3 kB | 6,696.0 kB | [list of files] |
| sh4 (unofficial port) | 2.1.0~beta0+really2.1.0~beta0-1~exp2 | 1,979.5 kB | 6,020.0 kB | [list of files] |
| sparc64 (unofficial port) | 2.1.0~beta0+really2.1.0~beta0-1~exp3 | 1,393.6 kB | 6,538.0 kB | [list of files] |
| x32 (unofficial port) | 2.1.0~beta0+really2.1.0~beta0-1~exp3 | 1,767.8 kB | 5,990.0 kB | [list of files] |