Package: qtractor (0.9.8-1)
Links for qtractor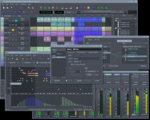 Debian Resources:
Download Source Package qtractor:
Maintainers:
External Resources:
Similar packages:
Experimental package
Warning: This package is from the experimental distribution. That means it is likely unstable or buggy, and it may even cause data loss. Please be sure to consult the changelog and other possible documentation before using it.
MIDI/Audio multi-track sequencer application
Qtractor is a MIDI/Audio multi-track sequencer application written in C++.
The Jack Audio Connection Kit (JACK) for audio, and the Advanced Linux Sound Architecture (ALSA) for MIDI, are the main infrastructures to evolve as a fairly-featured Linux Desktop Audio Workstation GUI, especially dedicated to the personal home-studio.
Other Packages Related to qtractor
Download qtractor
Download for all available architectures

| Architecture | Package Size | Installed Size | Files |
| --- | --- | --- | --- |
| amd64 | 1,661.3 kB | 6,350.0 kB | [list of files] |
| arm64 | 1,525.2 kB | 6,269.0 kB | [list of files] |
| armel | 1,430.5 kB | 5,611.0 kB | [list of files] |
| armhf | 1,450.1 kB | 4,899.0 kB | [list of files] |
| hppa (unofficial port) | 1,642.7 kB | 6,890.0 kB | [list of files] |
| i386 | 1,773.4 kB | 6,547.0 kB | [list of files] |
| m68k (unofficial port) | 1,709.2 kB | 6,851.0 kB | [list of files] |
| mips | 1,553.5 kB | 7,674.0 kB | [list of files] |
| mips64el | 1,573.4 kB | 7,957.0 kB | [list of files] |
| mipsel | 1,577.1 kB | 7,674.0 kB | [list of files] |
| ppc64 (unofficial port) | 1,653.3 kB | 7,918.0 kB | [list of files] |
| ppc64el | 1,649.6 kB | 7,406.0 kB | [list of files] |
| riscv64 (unofficial port) | 1,633.1 kB | 6,166.0 kB | [list of files] |
| s390x | 1,526.2 kB | 6,681.0 kB | [list of files] |
| sh4 (unofficial port) | 1,841.3 kB | 6,261.0 kB | [list of files] |
| sparc64 (unofficial port) | 1,421.8 kB | 6,475.0 kB | [list of files] |
| x32 (unofficial port) | 1,655.5 kB | 6,039.0 kB | [list of files] |