Package: nvidia-settings (510.85.02-1) [contrib]
Links for nvidia-settings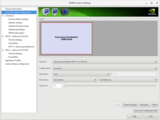 Debian Resources:
Maintainers:
External Resources:
Similar packages:
Experimental package
Warning: This package is from the experimental distribution. That means it is likely unstable or buggy, and it may even cause data loss. Please be sure to consult the changelog and other possible documentation before using it.
tool for configuring the NVIDIA graphics driver
The nvidia-settings utility is a tool for configuring the NVIDIA Linux graphics driver. It operates by communicating with the NVIDIA X driver, querying and updating state as appropriate. This communication is done with the NV-CONTROL X extension.
Values such as brightness and gamma, XVideo attributes, temperature, and OpenGL settings can be queried and configured via nvidia-settings.
Other Packages Related to nvidia-settings
cleanup after driver installation with the nvidia-installer
NVIDIA binary OpenGL/GLX library (GLVND variant)

rec:

libnvidia-ml1

NVIDIA Management Library (NVML) runtime library

rec:

nvidia-vdpau-driver

Video Decode and Presentation API for Unix - NVIDIA driver