Package: texlive-fonts-recommended (2019.20190311-1)
Links for texlive-fonts-recommended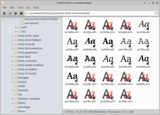 Debian Resources:
Download Source Package texlive-base:
Maintainers:
External Resources:
Similar packages:
Experimental package
Warning: This package is from the experimental distribution. That means it is likely unstable or buggy, and it may even cause data loss. Please be sure to consult the changelog and other possible documentation before using it.
TeX Live: Recommended fonts
Recommended fonts, including the base 35 PostScript fonts, Latin Modern, TeX Gyre, and T1 and other encoding support for Computer Modern, in outline form.
This package includes the following CTAN packages:
avantgar -- URW "Base 35" font pack for LaTeX
bookman -- URW "Base 35" font pack for LaTeX
charter -- Charter fonts
cmextra -- Knuth's local information
courier -- URW "Base 35" font pack for LaTeX
ec -- Computer modern fonts in T1 and TS1 encodings
euro -- Provide Euro values for national currency amounts
euro-ce -- Euro and CE sign font
eurosym -- Metafont and macros for Euro sign
fpl -- SC and OsF fonts for URW Palladio L
helvetic -- URW "Base 35" font pack for LaTeX
marvosym -- Martin Vogel's Symbols (marvosym) font
mathpazo -- Fonts to typeset mathematics to match Palatino
manfnt-font -- Knuth's "manual" fonts
mflogo-font -- Metafont logo font
ncntrsbk -- URW "Base 35" font pack for LaTeX
palatino -- URW "Base 35" font pack for LaTeX
pxfonts -- Palatino-like fonts in support of mathematics
rsfs -- Ralph Smith's Formal Script font
symbol -- URW "Base 35" font pack for LaTeX
times -- URW "Base 35" font pack for LaTeX
txfonts -- Times-like fonts in support of mathematics
utopia -- Adobe Utopia fonts
wasy -- The wasy fonts (Waldi symbol fonts)
wasy2-ps -- Type 1 versions of wasy2 fonts
wasysym -- LaTeX support file to use the WASY2 fonts
zapfchan -- URW "Base 35" font pack for LaTeX
zapfding -- URW "Base 35" font pack for LaTeX
Other Packages Related to texlive-fonts-recommended
dep:

tex-common (>= 6)

common infrastructure for building and installing TeX

dep:

texlive-base (>= 2019.20190311)

TeX Live: Essential programs and files
rec:

tex-gyre

scalable PostScript and OpenType fonts based on URW Fonts

rec:

tipa (>= 2:1.2-2.1)

system for processing phonetic symbols in LaTeX
TeX Live: Documentation files for texlive-fonts-recommended
Download texlive-fonts-recommended
Download for all available architectures

| Architecture | Package Size | Installed Size | Files |
| --- | --- | --- | --- |
| all | 5,105.3 kB | 18,180.0 kB | [list of files] |