Package: photoflare (1.5.8-1)
Links for photoflare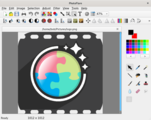 Debian Resources:
Download Source Package photoflare:
Maintainers:
External Resources:
Similar packages:
Experimental package
Warning: This package is from the experimental distribution. That means it is likely unstable or buggy, and it may even cause data loss. Please be sure to consult the changelog and other possible documentation before using it.
Simple but powerful Image Editor
PhotoFlare is an effort to bring quick, simple but powerful image editing to the masses. PhotoFlare is inspired by the image editor PhotoFiltre which is available only on another OS. PhotoFlare is designed for beginner users with the aim to give them a tool easy to learn and use.
Other Packages Related to photoflare
Download photoflare
Download for all available architectures

| Architecture | Package Size | Installed Size | Files |
| --- | --- | --- | --- |
| amd64 | 727.9 kB | 1,702.0 kB | [list of files] |
| arm64 | 700.7 kB | 1,694.0 kB | [list of files] |
| armel | 684.1 kB | 1,509.0 kB | [list of files] |
| armhf | 689.2 kB | 1,341.0 kB | [list of files] |
| hppa (unofficial port) | 727.6 kB | 1,824.0 kB | [list of files] |
| hurd-i386 | 747.8 kB | 1,693.0 kB | [list of files] |
| i386 | 747.5 kB | 1,697.0 kB | [list of files] |
| m68k (unofficial port) | 757.0 kB | 1,937.0 kB | [list of files] |
| mips | 697.9 kB | 2,014.0 kB | [list of files] |
| mips64el | 702.6 kB | 2,080.0 kB | [list of files] |
| mipsel | 703.4 kB | 2,014.0 kB | [list of files] |
| ppc64 (unofficial port) | 720.6 kB | 2,066.0 kB | [list of files] |
| ppc64el | 719.0 kB | 1,938.0 kB | [list of files] |
| riscv64 (unofficial port) | 735.4 kB | 1,696.0 kB | [list of files] |
| s390x | 715.1 kB | 1,850.0 kB | [list of files] |
| sh4 (unofficial port) | 795.8 kB | 1,784.0 kB | [list of files] |
| sparc64 (unofficial port) | 676.4 kB | 1,747.0 kB | [list of files] |
| x32 (unofficial port) | 729.6 kB | 1,605.0 kB | [list of files] |