Package: devhelp (3.32.0-1)
Links for devhelp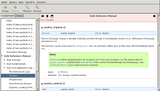 Debian Resources:
Download Source Package devhelp:
Maintainers:
External Resources:
Similar packages:
Experimental package
Warning: This package is from the experimental distribution. That means it is likely unstable or buggy, and it may even cause data loss. Please be sure to consult the changelog and other possible documentation before using it.
GNOME developers help program
Devhelp's primary goal is to be an API documentation browser for GNOME. It is able to scan for .devhelp files generated automatically for packages that use gtk-doc-tools to generate documentation for libraries and programs.
Devhelp provides some integration capabilities, which is used to allow command-line searches, emacs integration and embedding in applications like the Anjuta IDE.
Other Packages Related to devhelp