Package: baobab (3.32.0-1)
Links for baobab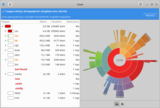 Debian Resources:
Download Source Package baobab:
Maintainers:
External Resources:
Similar packages:
Experimental package
Warning: This package is from the experimental distribution. That means it is likely unstable or buggy, and it may even cause data loss. Please be sure to consult the changelog and other possible documentation before using it.
GNOME disk usage analyzer
Disk Usage Analyzer is a graphical, menu-driven application to analyse disk usage in a GNOME environment. It can easily scan either the whole filesystem tree, or a specific user-requested directory branch (local or remote).
It also auto-detects in real-time any changes made to your home directory as far as any mounted/unmounted device. Disk Usage Analyzer also provides a full graphical treemap window for each selected folder.
Other Packages Related to baobab
rec:

yelp

Help browser for GNOME
Download baobab
Download for all available architectures

| Architecture | Package Size | Installed Size | Files |
| --- | --- | --- | --- |
| amd64 | 258.3 kB | 1,823.0 kB | [list of files] |
| arm64 | 254.9 kB | 1,815.0 kB | [list of files] |
| armel | 251.0 kB | 1,782.0 kB | [list of files] |
| armhf | 250.9 kB | 1,750.0 kB | [list of files] |
| hppa (unofficial port) | 257.3 kB | 1,822.0 kB | [list of files] |
| hurd-i386 | 264.7 kB | 1,834.0 kB | [list of files] |
| i386 | 265.0 kB | 1,842.0 kB | [list of files] |
| m68k (unofficial port) | 255.0 kB | 1,802.0 kB | [list of files] |
| mips | 252.0 kB | 1,826.0 kB | [list of files] |
| mips64el | 250.5 kB | 1,837.0 kB | [list of files] |
| mipsel | 253.0 kB | 1,826.0 kB | [list of files] |
| powerpcspe (unofficial port) | 254.3 kB | 1,818.0 kB | [list of files] |
| ppc64 (unofficial port) | 264.5 kB | 1,947.0 kB | [list of files] |
| ppc64el | 263.6 kB | 1,883.0 kB | [list of files] |
| riscv64 (unofficial port) | 248.7 kB | 1,774.0 kB | [list of files] |
| s390x | 253.7 kB | 1,831.0 kB | [list of files] |
| sh4 (unofficial port) | 263.1 kB | 1,796.0 kB | [list of files] |
| sparc64 (unofficial port) | 248.7 kB | 1,817.0 kB | [list of files] |
| x32 (unofficial port) | 258.8 kB | 1,806.0 kB | [list of files] |