Package: libreoffice (4:24.2.0~alpha1-1 and others)
Links for libreoffice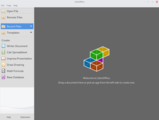 Debian Resources:
Download Source Package libreoffice:
Maintainers:
External Resources:
Similar packages:
Experimental package
Warning: This package is from the experimental distribution. That means it is likely unstable or buggy, and it may even cause data loss. Please be sure to consult the changelog and other possible documentation before using it.
office productivity suite (metapackage)
LibreOffice is a full-featured office productivity suite that provides a near drop-in replacement for Microsoft(R) Office.
This metapackage installs all components of libreoffice:

 * libreoffice-writer: Word processor
 * libreoffice-calc: Spreadsheet
 * libreoffice-impress: Presentation
 * libreoffice-draw: Drawing
 * libreoffice-base: Database
 * libreoffice-math: Equation editor

It also recommends additional packages (e.g. fonts) in order to match an upstream LibreOffice install as closely as possible.
You can extend the functionality of LibreOffice by installing these packages:

 * hunspell-*/myspell-*: Hunspell/Myspell dictionaries
   for use with LibreOffice
 * libreoffice-l10n-*: UI interface translation
 * libreoffice-help-*: User help
 * mythes-*: Thesauri for the use with LibreOffice
 * hyphen-*: Hyphenation patterns for LibreOffice
 * libreoffice-gtk(2|3): Gtk UI Plugin, GNOME File Picker support
 * libreoffice-gnome: GIO backend
 * unixodbc: ODBC database support
 * cups-bsd: Allows LibreOffice to detect your CUPS printer queues
   automatically
 * libsane: Use your sane-supported scanner with LibreOffice
 * libxrender1: Speed up display by using Xrender library
 * libgl1: OpenGL support
 * openclipart-libreoffice: Open Clip Art Gallery with LibreOffice index
   files
 * firefox-esr | thunderbird | firefox:
   Mozilla profile with Certificates needed for XML Security...
 * openjdk-11-jre | openjdk-8-jre | java8-runtime:
   Java Runtime Environment for use with LibreOffice
 * pstoedit / imagemagick / ghostscript: helper tools for EPS
 * gstreamer0.10-plugins-*: GStreamer plugins for use with LibreOffices
   media backend
 * libpaper-utils: papersize detection support via paperconf
 * bluez: Bluetooth support for Impress (slideshow remote control)

Other Packages Related to libreoffice
sug:

cups-bsd

Common UNIX Printing System(tm) - BSD commands

sug:

default-jre (>= 2:1.8) [not armhf, ppc64el, s390x]

Standard Java or Java compatible Runtime

or java-runtime (>= 8)

Package not available
virtual package provided by default-jre

or jre

Package not available

sug:

firefox-esr

Mozilla Firefox web browser - Extended Support Release (ESR)

or thunderbird

mail/news client with RSS, chat and integrated spam filter support

or firefox

Mozilla Firefox web browser

sug:

ghostscript

interpreter for the PostScript language and for PDF

sug:

gnupg

GNU privacy guard - a free PGP replacement

sug:

gpa

GNU Privacy Assistant (GPA)

sug:

gstreamer1.0-libav

ffmpeg plugin for GStreamer

GStreamer plugins from the "bad" set

GStreamer plugins from the "base" set

GStreamer plugins from the "good" set

GStreamer plugins from the "ugly" set

sug:

hunspell-dictionary

Package not available

sug:

hyphen-hyphenation-patterns

Package not available

sug:

imagemagick

image manipulation programs -- binaries
also a virtual package provided by graphicsmagick-imagemagick-compat, imagemagick-6.q16
image processing tools providing ImageMagick interface

sug:

libgl1

Vendor neutral GL dispatch library -- legacy GL support

sug:

libofficebean-java [not armhf, ppc64el, s390x]

generic Java Bean wrapper for LibreOffice components

sug:

libreoffice-gnome

office productivity suite -- GNOME integration
office productivity suite -- some Plasma integration

sug:

libreoffice-grammarcheck

Package not available

sug:

libreoffice-help (= 24.2) [not armhf, mips64el, riscv64]

Package not available

sug:

libreoffice-help (= 7.5) [mips64el, riscv64]

sug:

libreoffice-help (= 7.6) [armhf]

sug:

libreoffice-l10n (= 24.2) [not armhf, mips64el, riscv64]

Package not available

sug:

libreoffice-l10n (= 7.5) [mips64el, riscv64]

sug:

libreoffice-l10n (= 7.6) [armhf]

Logo-like programming language for LibreOffice

sug:

libsane1

API library for scanners

sug:

libxrender1

X Rendering Extension client library

sug:

myspell-dictionary

Package not available

sug:

mythes-thesaurus

Package not available

clip art for OpenOffice.org/LibreOffice gallery

sug:

pstoedit

PostScript and PDF files to editable vector graphics converter

sug:

unixodbc

Basic ODBC tools