Package: libc6 (2.37-1)
Links for libc6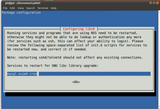 Debian Resources:
Download Source Package glibc:
Maintainers:
External Resources:
Similar packages:
Experimental package
Warning: This package is from the experimental distribution. That means it is likely unstable or buggy, and it may even cause data loss. Please be sure to consult the changelog and other possible documentation before using it.
GNU C Library: Shared libraries
Contains the standard libraries that are used by nearly all programs on the system. This package includes shared versions of the standard C library and the standard math library, as well as many others.
Packages providing libc6
GNU C Library: Shared libraries - udeb
Other Packages Related to libc6
rec:

libidn2-0 (>= 2.0.5~)

Internationalized domain names (IDNA2008/TR46) library
Download libc6
Download for all available architectures

| Architecture | Package Size | Installed Size | Files |
| --- | --- | --- | --- |
| amd64 | 2,691.0 kB | 12,988.0 kB | [list of files] |
| arm64 | 2,265.9 kB | 23,127.0 kB | [list of files] |
| armel | 2,086.5 kB | 8,989.0 kB | [list of files] |
| armhf | 2,084.8 kB | 7,965.0 kB | [list of files] |
| i386 | 2,563.6 kB | 12,136.0 kB | [list of files] |
| m68k (unofficial port) | 2,044.9 kB | 8,783.0 kB | [list of files] |
| mips64el | 2,315.6 kB | 24,128.0 kB | [list of files] |
| mipsel | 2,211.5 kB | 23,331.0 kB | [list of files] |
| ppc64 (unofficial port) | 2,377.7 kB | 24,342.0 kB | [list of files] |
| ppc64el | 2,615.9 kB | 24,617.0 kB | [list of files] |
| riscv64 (unofficial port) | 2,234.8 kB | 8,354.0 kB | [list of files] |
| s390x | 2,193.1 kB | 10,188.0 kB | [list of files] |
| sh4 (unofficial port) | 2,370.2 kB | 22,591.0 kB | [list of files] |
| x32 (unofficial port) | 2,684.0 kB | 11,789.0 kB | [list of files] |