Package: inkscape (1.0~alpha-1) [debports]
Links for inkscape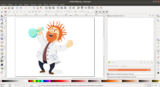 Debian Resources:
Download Source Package :
Not found
Maintainers:
External Resources:
Similar packages:
Experimental package
Warning: This package is from the experimental distribution. That means it is likely unstable or buggy, and it may even cause data loss. Please be sure to consult the changelog and other possible documentation before using it.
vector-based drawing program
Inkscape is an illustration editor which has everything needed to create professional-quality computer art. You can use it to make diagrams and illustrations, technical drawings, web graphics, clip art, icons and logos. A collection of hands-on tutorials show you how to combine lines, shapes and text of different types and styles to build up a picture.
A selection of powerful vector graphics editing tools comes as standard. There is excellent support for paths, gradients, layers, alpha transparency and text flow control. An extensive library of filters allow you to apply realistic effects and extensions allow you to work with bitmaps, barcodes and printing marks, amongst other things.
Most of the common vector formats are supported, including PDF, Adobe Illustrator and AutoCAD files, and it has unrivalled support for the SVG web graphics standard.
Between the suggested packages:

 * dia: to export Dia shapes;
 * libsvg-perl: to import .txt files (txt2svg extension);
 * libxml-xql-perl: to use the shadow effect;
 * python-uniconvertor: enables several import/export extensions;
 * pstoedit: to work with eps files;
 * ruby: there are several extensions written in ruby;

Other Packages Related to inkscape
dep:

libaspell15 (>= 0.60.7~20110707)

GNU Aspell spell-checker runtime library

dep:

libatk1.0-0 (>= 1.12.4)

ATK accessibility toolkit

dep:

libatkmm-1.6-1v5 (>= 2.24.0)

C++ wrappers for ATK accessibility toolkit (shared libraries)

dep:

libc6 (>= 2.27)

GNU C Library: Shared libraries
also a virtual package provided by libc6-udeb

dep:

libcairo-gobject2 (>= 1.10.0)

Cairo 2D vector graphics library (GObject library)

dep:

libcairo2 (>= 1.15.8)

Cairo 2D vector graphics library

dep:

libcairomm-1.0-1v5 (>= 1.12.0)

C++ wrappers for Cairo (shared libraries)

dep:

libcdr-0.1-1

library for reading and converting Corel DRAW files

dep:

libdbus-1-3 (>= 1.9.14)

simple interprocess messaging system (library)

dep:

libdbus-glib-1-2 (>= 0.88)

deprecated library for D-Bus IPC

dep:

libenchant1c2a (>= 1.6.0)

Package not available

dep:

libfontconfig1 (>= 2.12.6)

generic font configuration library - runtime

dep:

libfreetype6 (>= 2.7.1)

FreeType 2 font engine, shared library files

dep:

libgc1c2 (>= 1:7.2d)

conservative garbage collector for C and C++

dep:

libgcc1 (>= 1:4.0)

Package not available

dep:

libgdk-pixbuf2.0-0 (>= 2.22.0)

GDK Pixbuf library (transitional package)

dep:

libgdl-3-5 (>= 3.8.1)

GNOME DevTool libraries

dep:

libglib2.0-0 (>= 2.57.2)

GLib library of C routines

dep:

libglibmm-2.4-1v5 (>= 2.54.0)

C++ wrapper for the GLib toolkit (shared libraries)

dep:

libgomp1 (>= 4.9)

GCC OpenMP (GOMP) support library

dep:

libgsl23 (>= 2.5)

GNU Scientific Library (GSL) -- library package

dep:

libgslcblas0 (>= 2.4)

GNU Scientific Library (GSL) -- blas library package

dep:

libgtk-3-0 (>= 3.21.5)

GTK graphical user interface library

dep:

libgtkmm-3.0-1v5 (>= 3.24.0)

C++ wrappers for GTK+ (shared libraries)

dep:

libgtkspell3-3-0

spell-checking addon for GTK+'s TextView widget

dep:

libharfbuzz0b (>= 1.2.6)

OpenType text shaping engine (shared library)

dep:

libice6 (>= 1:1.0.0)

X11 Inter-Client Exchange library

dep:

libjpeg62-turbo (>= 1.3.1)

libjpeg-turbo JPEG runtime library

dep:

liblcms2-2 (>= 2.2+git20110628)

Little CMS 2 color management library

dep:

libmagick++-6.q16-8

C++ interface to ImageMagick -- quantum depth Q16

dep:

libmagickcore-6.q16-6 (>= 8:6.9.10.2)

low-level image manipulation library -- quantum depth Q16

dep:

libmagickwand-6.q16-6 (>= 8:6.9.10.2)

image manipulation library -- quantum depth Q16

dep:

libpango-1.0-0 (>= 1.42.0)

Layout and rendering of internationalized text

dep:

libpangocairo-1.0-0 (>= 1.14.0)

Layout and rendering of internationalized text

dep:

libpangoft2-1.0-0 (>= 1.37.2)

Layout and rendering of internationalized text

dep:

libpangomm-1.4-1v5 (>= 2.42.0)

C++ Wrapper for pango (shared libraries)

dep:

libpng16-16 (>= 1.6.2-1)

PNG library - runtime (version 1.6)

dep:

libpoppler-glib8 (>= 0.18.0)

PDF rendering library (GLib-based shared library)

dep:

libpoppler82 (>= 0.71.0)

PDF rendering library

dep:

libpotrace0

library for tracing bitmaps

dep:

librevenge-0.0-0

Base Library for writing document interface filters

dep:

libsigc++-2.0-0v5 (>= 2.8.0)

type-safe Signal Framework for C++ - runtime

dep:

libsm6

X11 Session Management library

dep:

libsoup2.4-1 (>= 2.41.90)

HTTP library implementation in C -- Shared library

dep:

libstdc++6 (>= 5.2)

GNU Standard C++ Library v3

dep:

libvisio-0.1-1

library for parsing the visio file structure

dep:

libwpg-0.3-3

WordPerfect graphics import/convert library (shared library)

dep:

libx11-6

X11 client-side library

dep:

libxext6

X11 miscellaneous extension library

dep:

libxml2 (>= 2.7.4)

GNOME XML library

dep:

libxslt1.1 (>= 1.1.25)

XSLT 1.0 processing library - runtime library

dep:

libyaml-0-2

Fast YAML 1.1 parser and emitter library

dep:

zlib1g (>= 1:1.1.4)

compression library - runtime
sug:

dia

Diagram editor

sug:

inkscape-tutorials

vector-based drawing program - tutorials

sug:

libsvg-perl

perl module to generate SVG images

sug:

libxml-xql-perl

Perl module for querying XML tree structures with XQL

sug:

pstoedit

PostScript and PDF files to editable vector graphics converter

sug:

python-uniconvertor

Package not available

sug:

ruby

Interpreter of object-oriented scripting language Ruby (default version)
Download inkscape
Download for all available architectures

| Architecture | Package Size | Installed Size | Files |
| --- | --- | --- | --- |
| powerpcspe (unofficial port) | 13,272.3 kB | 71,094.0 kB | [list of files] |