Package: iceweasel (42.0-1 and others)
Links for iceweasel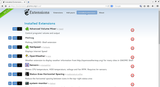 Debian Resources:
Download Source Package iceweasel:
Maintainers:
Similar packages:
Experimental package
Warning: This package is from the experimental distribution. That means it is likely unstable or buggy, and it may even cause data loss. Please be sure to consult the changelog and other possible documentation before using it.
Web browser based on Firefox
Iceweasel is Firefox, rebranded. It is a powerful, extensible web browser with support for modern web application technologies.
Other Packages Related to iceweasel
Download iceweasel
Download for all available architectures

| Architecture | Version | Package Size | Installed Size | Files |
| --- | --- | --- | --- | --- |
| amd64 | 42.0-1 | 39,946.4 kB | 89,368.0 kB | [list of files] |
| arm64 | 41.0.2-1 | 34,863.5 kB | 79,652.0 kB | [list of files] |
| armel | 42.0-1 | 36,981.2 kB | 78,380.0 kB | [list of files] |
| armhf | 42.0-1 | 37,209.9 kB | 65,077.0 kB | [list of files] |
| i386 | 42.0-1 | 42,083.3 kB | 96,491.0 kB | [list of files] |
| kfreebsd-amd64 | 42.0-1 | 39,481.3 kB | 101,496.0 kB | [list of files] |
| kfreebsd-i386 | 42.0-1 | 40,986.8 kB | 102,596.0 kB | [list of files] |
| mips | 41.0.1-1 | 35,657.6 kB | 86,204.0 kB | [list of files] |
| powerpc | 42.0-1 | 36,748.9 kB | 86,814.0 kB | [list of files] |
| ppc64 (unofficial port) | 42.0-1 | 38,324.8 kB | 114,069.0 kB | [list of files] |
| ppc64el | 42.0-1 | 37,990.2 kB | 96,020.0 kB | [list of files] |
| s390x | 39.0-1 | 35,556.2 kB | 94,641.0 kB | [list of files] |