Package: haproxy (2.8.0-1)
Links for haproxy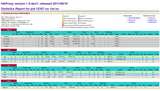 Debian Resources:
Download Source Package haproxy:
Maintainers:
External Resources:
Similar packages:
Experimental package
Warning: This package is from the experimental distribution. That means it is likely unstable or buggy, and it may even cause data loss. Please be sure to consult the changelog and other possible documentation before using it.
fast and reliable load balancing reverse proxy
HAProxy is a TCP/HTTP reverse proxy which is particularly suited for high availability environments. It features connection persistence through HTTP cookies, load balancing, header addition, modification, deletion both ways. It has request blocking capabilities and provides interface to display server status.
Other Packages Related to haproxy
dep:

dpkg (>= 1.17.14)

Debian package management system

dep:

init-system-helpers (>= 1.54~)

helper tools for all init systems
sug:

haproxy-doc

fast and reliable load balancing reverse proxy (HTML documentation)

sug:

vim-haproxy

syntax highlighting for HAProxy configuration files
Download haproxy
Download for all available architectures

| Architecture | Package Size | Installed Size | Files |
| --- | --- | --- | --- |
| alpha (unofficial port) | 2,179.9 kB | 5,295.0 kB | [list of files] |
| amd64 | 2,151.0 kB | 4,553.0 kB | [list of files] |
| arm64 | 2,054.8 kB | 4,584.0 kB | [list of files] |
| armel | 2,046.9 kB | 4,331.0 kB | [list of files] |
| armhf | 2,053.1 kB | 3,539.0 kB | [list of files] |
| hppa (unofficial port) | 2,090.3 kB | 4,438.0 kB | [list of files] |
| i386 | 2,217.3 kB | 4,806.0 kB | [list of files] |
| ia64 (unofficial port) | 2,494.3 kB | 8,270.0 kB | [list of files] |
| m68k (unofficial port) | 2,043.5 kB | 4,321.0 kB | [list of files] |
| mips64el | 2,002.7 kB | 5,058.0 kB | [list of files] |
| mipsel | 2,014.4 kB | 4,812.0 kB | [list of files] |
| ppc64 (unofficial port) | 2,185.9 kB | 5,736.0 kB | [list of files] |
| ppc64el | 2,244.9 kB | 5,672.0 kB | [list of files] |
| riscv64 (unofficial port) | 2,063.7 kB | 3,863.0 kB | [list of files] |
| s390x | 2,041.5 kB | 4,748.0 kB | [list of files] |
| sh4 (unofficial port) | 2,282.6 kB | 4,092.0 kB | [list of files] |
| sparc64 (unofficial port) | 1,991.8 kB | 7,421.0 kB | [list of files] |
| x32 (unofficial port) | 2,162.2 kB | 4,344.0 kB | [list of files] |