Package: gnome-color-manager (3.32.0-1) [debports]
Links for gnome-color-manager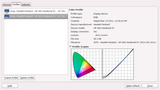 Debian Resources:
Download Source Package :
Not found
Maintainers:
External Resources:
Similar packages:
Experimental package
Warning: This package is from the experimental distribution. That means it is likely unstable or buggy, and it may even cause data loss. Please be sure to consult the changelog and other possible documentation before using it.
Color management integration for the GNOME desktop environment
GNOME Color Manager is a set of graphical utilities for color management to be used in the GNOME desktop. With the help of ArgyllCMS, it can create and apply display ICC color profiles.
Other Packages Related to gnome-color-manager
dep:

colord (>= 1.3.1)

system service to manage device colour profiles -- system daemon

dep:

libc6 (>= 2.27)

GNU C Library: Shared libraries
also a virtual package provided by libc6-udeb

dep:

libcairo2 (>= 1.2.4)

Cairo 2D vector graphics library

dep:

libcanberra-gtk3-0 (>= 0.25)

GTK+ 3.0 helper for playing widget event sounds with libcanberra

dep:

libcanberra0 (>= 0.2)

simple abstract interface for playing event sounds

dep:

libcolord-gtk1 (>= 0.1.20)

GTK+ convenience library for interacting with colord

dep:

libcolord2 (>= 1.4.3)

system service to manage device colour profiles -- runtime

dep:

libexif12 (>= 0.6.21-1~)

library to parse EXIF files

dep:

libexiv2-14 (>= 0.25)

Package not available

dep:

libgcc1 (>= 1:3.0)

Package not available

dep:

libgdk-pixbuf2.0-0 (>= 2.22.0)

GDK Pixbuf library (transitional package)

dep:

libglib2.0-0 (>= 2.37.3)

GLib library of C routines

dep:

libgtk-3-0 (>= 3.16.2)

GTK+ graphical user interface library

dep:

liblcms2-2 (>= 2.2+git20110628)

Little CMS 2 color management library

dep:

libpango-1.0-0 (>= 1.18.0)

Layout and rendering of internationalized text

dep:

libstdc++6 (>= 5.2)

GNU Standard C++ Library v3

dep:

libtiff5 (>= 4.0.3)

Tag Image File Format (TIFF) library

dep:

libvte-2.91-0 (>= 0.25.1)

Terminal emulator widget for GTK+ 3.0 - runtime files

dep:

policykit-1

transitional package for polkitd and pkexec
rec:

argyll

Color Management System, calibrator and profiler
Download gnome-color-manager
Download for all available architectures

| Architecture | Package Size | Installed Size | Files |
| --- | --- | --- | --- |
| powerpcspe (unofficial port) | 1,462.2 kB | 4,846.0 kB | [list of files] |