Package: ghc (8.10.2-1~exp2)
Links for ghc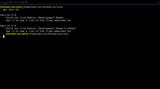 Debian Resources:
Download Source Package ghc:
Maintainers:
External Resources:
Similar packages:
Experimental package
Warning: This package is from the experimental distribution. That means it is likely unstable or buggy, and it may even cause data loss. Please be sure to consult the changelog and other possible documentation before using it.
The Glasgow Haskell Compilation system
The Glorious Glasgow Haskell Compilation system (GHC) is a compiler for Haskell.
Haskell is "the" standard lazy functional programming language. The language definition and additional documentation can be found in the `haskell-doc' package. Alternatively, there is an online version at http://haskell.org/onlinereport/.
Other Packages Related to ghc
dep:

dpkg (>= 1.16.1)

Debian package management system
Download ghc
Download for all available architectures

| Architecture | Package Size | Installed Size | Files |
| --- | --- | --- | --- |
| amd64 | 72,172.1 kB | 792,357.0 kB | [list of files] |
| arm64 | 108,317.5 kB | 1,168,702.0 kB | [list of files] |
| armhf | 118,294.2 kB | 1,055,925.0 kB | [list of files] |
| i386 | 72,099.5 kB | 620,070.0 kB | [list of files] |
| ppc64 (unofficial port) | 102,854.0 kB | 1,527,944.0 kB | [list of files] |
| ppc64el | 106,242.2 kB | 1,397,184.0 kB | [list of files] |
| sparc64 (unofficial port) | 124,279.6 kB | 1,899,143.0 kB | [list of files] |