Package: freedroidrpg (1.0~rc2-1)
Links for freedroidrpg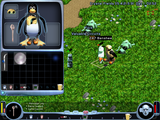 Debian Resources:
Download Source Package freedroidrpg:
Maintainers:
External Resources:
Similar packages:
Experimental package
Warning: This package is from the experimental distribution. That means it is likely unstable or buggy, and it may even cause data loss. Please be sure to consult the changelog and other possible documentation before using it.
Isometric RPG influenced by Paradroid
Freedroid RPG is an RPG with isometric graphics. In it, the player is Tux, who must fight rebelling robots in order to restore peace to humankind. To do so,Tux may take over robots in a minigame based off the classic game Paradroid, or may simply blast them to pieces with a weapon.
Note that this is not the same game as Freedroid, also available in Debian.
Other Packages Related to freedroidrpg
Download freedroidrpg
Download for all available architectures

| Architecture | Package Size | Installed Size | Files |
| --- | --- | --- | --- |
| alpha (unofficial port) | 871.5 kB | 1,920.0 kB | [list of files] |
| amd64 | 854.1 kB | 1,619.0 kB | [list of files] |
| arm64 | 816.3 kB | 1,608.0 kB | [list of files] |
| armel | 792.7 kB | 1,488.0 kB | [list of files] |
| armhf | 795.5 kB | 1,248.0 kB | [list of files] |
| hppa (unofficial port) | 815.0 kB | 1,554.0 kB | [list of files] |
| i386 | 876.7 kB | 1,756.0 kB | [list of files] |
| m68k (unofficial port) | 800.3 kB | 1,587.0 kB | [list of files] |
| mips64el | 810.2 kB | 1,788.0 kB | [list of files] |
| mipsel | 816.8 kB | 1,721.0 kB | [list of files] |
| ppc64 (unofficial port) | 878.3 kB | 2,084.0 kB | [list of files] |
| ppc64el | 883.9 kB | 1,956.0 kB | [list of files] |
| riscv64 (unofficial port) | 805.1 kB | 1,336.0 kB | [list of files] |
| s390x | 809.7 kB | 1,664.0 kB | [list of files] |
| sh4 (unofficial port) | 893.2 kB | 1,485.0 kB | [list of files] |
| sparc64 (unofficial port) | 787.9 kB | 1,612.0 kB | [list of files] |
| x32 (unofficial port) | 854.7 kB | 1,579.0 kB | [list of files] |