Package: file-roller (3.32.1-1) [debports]
Links for file-roller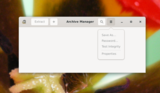 Debian Resources:
Download Source Package :
Not found
Maintainers:
External Resources:
Similar packages:
Experimental package
Warning: This package is from the experimental distribution. That means it is likely unstable or buggy, and it may even cause data loss. Please be sure to consult the changelog and other possible documentation before using it.
archive manager for GNOME
File-roller is an archive manager for the GNOME environment. It allows you to:

 * Create and modify archives.
 * View the content of an archive.
 * View a file contained in an archive.
 * Extract files from the archive.

File-roller supports the following formats:

 * Tar (.tar) archives, including those compressed with
   gzip (.tar.gz, .tgz), bzip (.tar.bz, .tbz), bzip2 (.tar.bz2, .tbz2),
   compress (.tar.Z, .taz), lzip (.tar.lz, .tlz), lzop (.tar.lzo, .tzo),
   lzma (.tar.lzma) and xz (.tar.xz)
 * Zip archives (.zip)
 * Jar archives (.jar, .ear, .war)
 * 7z archives (.7z)
 * iso9660 CD images (.iso)
 * Lha archives (.lzh)
 * Archiver archives (.ar)
 * Comic book archives (.cbz)
 * Single files compressed with gzip (.gz), bzip (.bz), bzip2 (.bz2),
   compress (.Z), lzip (.lz), lzop (.lzo), lzma (.lzma) and xz (.xz)

File-roller can extract following formats:

 * Cabinet archives (.cab)
 * Debian binary packages (.deb)
 * Xar archives (.xar)

File-roller doesn't perform archive operations by itself, but relies on standard tools for this.
Other Packages Related to file-roller
sug:

arj

archiver for .arj files

sug:

lha

Package not available

sug:

lzip

lossless data compressor based on the LZMA algorithm

sug:

lzop

fast compression program

sug:

ncompress

original Lempel-Ziv compress/uncompress programs

sug:

rpm2cpio

tool to convert RPM package to CPIO archive

sug:

rzip

compression program for large files

sug:

sharutils

shar, unshar, uuencode, uudecode

sug:

squashfs-tools

Tool to create and append to squashfs filesystems

sug:

unace

extract, test and view .ace archives

sug:

unalz

De-archiver for .alz files

sug:

unar

Unarchiver for a variety of file formats

sug:

unzip

De-archiver for .zip files

sug:

xz-utils

XZ-format compression utilities

sug:

zip

Archiver for .zip files

sug:

zoo

manipulate zoo archives
Download file-roller
Download for all available architectures

| Architecture | Package Size | Installed Size | Files |
| --- | --- | --- | --- |
| powerpcspe (unofficial port) | 649.1 kB | 4,521.0 kB | [list of files] |