Package: bambootracker (0.1.6-1)
Links for bambootracker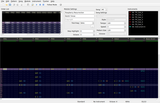 Debian Resources:
Maintainers:
External Resources:
Similar packages:
Experimental package
Warning: This package is from the experimental distribution. That means it is likely unstable or buggy, and it may even cause data loss. Please be sure to consult the changelog and other possible documentation before using it.
YM2608 (OPNA, sound chip of Yamaha) music tracker
This is a music tracker for the Yamaha sound chip YM2608 (OPNA) which was used in NEC PC-8801/9801 series computers.
Other Packages Related to bambootracker
Download bambootracker
Download for all available architectures

| Architecture | Package Size | Installed Size | Files |
| --- | --- | --- | --- |
| amd64 | 559.9 kB | 1,964.0 kB | [list of files] |
| arm64 | 501.6 kB | 1,896.0 kB | [list of files] |
| armel | 466.0 kB | 1,695.0 kB | [list of files] |
| armhf | 476.1 kB | 1,295.0 kB | [list of files] |
| hppa (unofficial port) | 563.0 kB | 2,292.0 kB | [list of files] |
| hurd-i386 | 591.3 kB | 2,063.0 kB | [list of files] |
| i386 | 592.3 kB | 2,067.0 kB | [list of files] |
| m68k (unofficial port) | 554.4 kB | 2,079.0 kB | [list of files] |
| mips | 501.2 kB | 2,576.0 kB | [list of files] |
| mips64el | 513.9 kB | 2,747.0 kB | [list of files] |
| mipsel | 511.6 kB | 2,576.0 kB | [list of files] |
| ppc64 (unofficial port) | 547.0 kB | 2,632.0 kB | [list of files] |
| ppc64el | 551.4 kB | 2,440.0 kB | [list of files] |
| riscv64 (unofficial port) | 574.1 kB | 1,798.0 kB | [list of files] |
| s390x | 508.7 kB | 2,124.0 kB | [list of files] |
| sh4 (unofficial port) | 668.2 kB | 2,029.0 kB | [list of files] |
| sparc64 (unofficial port) | 455.0 kB | 2,003.0 kB | [list of files] |
| x32 (unofficial port) | 560.5 kB | 1,851.0 kB | [list of files] |