Package: aptitude (0.6.10-2)
Links for aptitude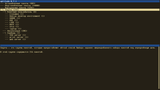 Debian Resources:
Download Source Package aptitude:
Maintainers:
External Resources:
Similar packages:
Experimental package
Warning: This package is from the experimental distribution. That means it is likely unstable or buggy, and it may even cause data loss. Please be sure to consult the changelog and other possible documentation before using it.
terminal-based package manager
aptitude is a package manager with a number of useful features, including: a mutt-like syntax for matching packages in a flexible manner, dselect-like persistence of user actions, the ability to retrieve and display the Debian changelog of most packages, and a command-line mode similar to that of apt-get.
aptitude is also Y2K-compliant, non-fattening, naturally cleansing, and housebroken.
Other Packages Related to aptitude
dep:

aptitude-common (= 0.6.10-2)

architecture indepedent files for the aptitude package manager

dep:

libapt-pkg4.12 (>= 0.9.11) [not alpha, hppa]

package management runtime library

dep:

libapt-pkg4.12 (>= 0.9.16) [alpha, hppa]

Boost.Iostreams Library

dep:

libc0.1 (>= 2.17-91) [kfreebsd-amd64, kfreebsd-i386]

Embedded GNU C Library: Shared libraries
also a virtual package provided by libc0.1-udeb

dep:

libc0.3 (>= 2.12) [hurd-i386]

Embedded GNU C Library: Shared libraries
also a virtual package provided by libc0.3-udeb

dep:

libc6.1 (>= 2.4) [alpha]

Package not available

dep:

libcwidget3

high-level terminal interface library for C++ (runtime files)

dep:

libept1.4.12

High-level library for managing Debian package information

dep:

libgcc1 (>= 1:4.1.1) [alpha, amd64, i386, kfreebsd-amd64, kfreebsd-i386, s390x, sparc]

GCC support library

dep:

libgcc1 (>= 1:4.2.1) [mips, mipsel, powerpc]

dep:

libgcc1 (>= 1:4.4.0) [armel, armhf]

dep:

libgcc1 (>= 4.2.1) [hurd-i386]

dep:

libgcc4 (>= 4.1.1) [hppa]

GCC support library

dep:

libncursesw5 (>= 5.6+20070908)

shared libraries for terminal handling (wide character support)

dep:

libsigc++-2.0-0c2a (>= 2.2.0)

type-safe Signal Framework for C++ - runtime

dep:

libsqlite3-0 (>= 3.6.5)

SQLite 3 shared library

dep:

libstdc++6 (>= 4.6)

GNU Standard C++ Library v3

dep:

libtinfo5

shared low-level terminfo library for terminal handling

dep:

libxapian22

Search engine library

dep:

zlib1g (>= 1:1.1.4)

compression library - runtime
Download aptitude
Download for all available architectures

| Architecture | Package Size | Installed Size | Files |
| --- | --- | --- | --- |
| alpha (unofficial port) | 1,345.0 kB | 5,661.0 kB | [list of files] |
| amd64 | 1,379.7 kB | 4,520.0 kB | [list of files] |
| armel | 1,213.8 kB | 4,010.0 kB | [list of files] |
| armhf | 1,234.9 kB | 3,070.0 kB | [list of files] |
| hppa (unofficial port) | 1,377.3 kB | 4,921.0 kB | [list of files] |
| hurd-i386 | 1,375.4 kB | 4,446.0 kB | [list of files] |
| i386 | 1,366.3 kB | 4,277.0 kB | [list of files] |
| kfreebsd-amd64 | 1,289.5 kB | 4,038.0 kB | [list of files] |
| kfreebsd-i386 | 1,296.7 kB | 3,956.0 kB | [list of files] |
| mips | 1,166.2 kB | 5,474.0 kB | [list of files] |
| mipsel | 1,187.0 kB | 5,474.0 kB | [list of files] |
| powerpc | 1,240.7 kB | 4,819.0 kB | [list of files] |
| s390x | 1,380.6 kB | 5,320.0 kB | [list of files] |
| sparc | 1,172.8 kB | 4,483.0 kB | [list of files] |