[ wheezy ]
Package: xfprint4 (4.6.1-3)
Links for xfprint4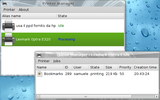 Debian Resources:
Download Source Package xfprint4:
Maintainers:
External Resources:
Similar packages:
Printer GUI for Xfce4
xfprint4 is a printer manager for the Xfce4 desktop environment. It allows you to manage your print job or to print a file by drag'n'drop. You do not have to have this package installed, but if you are using xfce4 it is a nice GUI to manage your printer jobs.
Other Packages Related to xfprint4
sug:

psutils

PostScript document handling utilities
Download xfprint4
Download for all available architectures

| Architecture | Package Size | Installed Size | Files |
| --- | --- | --- | --- |
| amd64 | 602.6 kB | 1,802.0 kB | [list of files] |
| armel | 589.2 kB | 1,741.0 kB | [list of files] |
| armhf | 587.3 kB | 1,712.0 kB | [list of files] |
| i386 | 598.2 kB | 1,763.0 kB | [list of files] |
| ia64 | 627.5 kB | 1,941.0 kB | [list of files] |
| kfreebsd-amd64 | 599.9 kB | 1,276.0 kB | [list of files] |
| kfreebsd-i386 | 598.0 kB | 1,243.0 kB | [list of files] |
| mips | 592.9 kB | 1,760.0 kB | [list of files] |
| mipsel | 592.4 kB | 1,760.0 kB | [list of files] |
| powerpc | 600.7 kB | 1,772.0 kB | [list of files] |
| s390 | 601.7 kB | 1,776.0 kB | [list of files] |
| s390x | 606.0 kB | 1,816.0 kB | [list of files] |
| sparc | 590.9 kB | 1,756.0 kB | [list of files] |