[ wheezy ]
Package: centerim-utf8 (4.22.10-2)
Links for centerim-utf8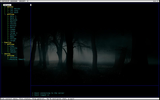 Debian Resources:
Download Source Package centerim:
Maintainers:
External Resources:
Similar packages:
A text-mode multi-protocol instant messenger client
Centerim is a fork of the centericq instant messaging client
Centerim is a text mode menu- and window-driven IM client program that supports the ICQ2000, Yahoo!, AIM, MSN, IRC and Jabber protocols.
This is a version of centerim linked with libncursesw5. It may be buggy.
Other Packages Related to centerim-utf8
rec:

firefox

Package not available

or www-browser

virtual package provided by chimera2, chromium, conkeror, dillo, elinks, elinks-lite, elvis, elvis-console, epiphany-browser, firefox-esr, iceweasel, konqueror, links, links2, lynx-cur, midori, netrik, netsurf, netsurf-fb, netsurf-gtk, rekonq, surf, uzbl, w3m

rec:

sox

Swiss army knife of sound processing
Download centerim-utf8
Download for all available architectures

| Architecture | Package Size | Installed Size | Files |
| --- | --- | --- | --- |
| s390x | 1,235.7 kB | 3,331.0 kB | [list of files] |