Package: kolourpaint (4:18.04.0-1)
Links for kolourpaint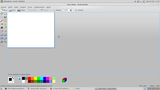 Debian Resources:
Download Source Package kolourpaint:
Maintainers:
External Resources:
Similar packages:
simple image editor and drawing application
KolourPaint is a simple drawing and image editing application for KDE. It aims to be easy to use, providing a level of functionality targeted towards the average user. It is ideal for common tasks such as drawing simple graphics and touching-up photos.
This package is part of the KDE graphics module.
Other Packages Related to kolourpaint
Download kolourpaint
Download for all available architectures

| Architecture | Package Size | Installed Size | Files |
| --- | --- | --- | --- |
| alpha (unofficial port) | 5,558.2 kB | 9,800.0 kB | [list of files] |
| amd64 | 5,553.4 kB | 9,546.0 kB | [list of files] |
| arm64 | 5,503.6 kB | 9,464.0 kB | [list of files] |
| armel | 5,504.8 kB | 9,282.0 kB | [list of files] |
| armhf | 5,507.4 kB | 9,081.0 kB | [list of files] |
| hppa (unofficial port) | 5,538.8 kB | 9,525.0 kB | [list of files] |
| hurd-i386 | 5,599.6 kB | 9,620.0 kB | [list of files] |
| i386 | 5,599.7 kB | 9,625.0 kB | [list of files] |
| m68k (unofficial port) | 5,515.0 kB | 9,313.0 kB | [list of files] |
| mips | 5,516.7 kB | 9,613.0 kB | [list of files] |
| mips64el | 5,519.9 kB | 9,729.0 kB | [list of files] |
| mipsel | 5,522.2 kB | 9,613.0 kB | [list of files] |
| powerpcspe (unofficial port) | 5,512.5 kB | 9,497.0 kB | [list of files] |
| ppc64 (unofficial port) | 5,536.4 kB | 10,031.0 kB | [list of files] |
| ppc64el | 5,531.1 kB | 9,886.0 kB | [list of files] |
| riscv64 (unofficial port) | 5,514.4 kB | 9,259.0 kB | [list of files] |
| s390x | 5,534.0 kB | 9,663.0 kB | [list of files] |
| x32 (unofficial port) | 5,550.6 kB | 9,392.0 kB | [list of files] |