Package: ardour-i686 (1:2.8.16+git20131003+dfsg1-1~deb8u1)
Links for ardour-i686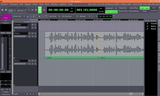 Debian Resources:
Download Source Package ardour:
Maintainers:
External Resources:
Similar packages:
digital audio workstation (graphical gtk2 interface) [i686]
Ardour is a multichannel hard disk recorder (HDR) and digital audio workstation (DAW). It can be used to control, record, edit and run complex audio setups. For more information see the description of the ardour package or <http://ardour.org/>.
This package is optimized for i686 and will not run on subarchitectures that don't support features enabled in i686. It might fail with weird error SIGILLs and other non-obvious failures. Please refrain from filling bugs to the upstream author about this package that are not reproducible in the non-optimized package.
Other Packages Related to ardour-i686
rec:

iceweasel

Web browser based on Firefox - Transitional package

or www-browser

virtual package provided by chimera2, chromium, conkeror, dillo, dwb, edbrowse, elinks, epiphany-browser, firefox-esr, konqueror, links, links2, lynx-cur, netrik, netsurf, netsurf-fb, netsurf-gtk, surf, uzbl, w3m, xemacs21-mule, xemacs21-mule-canna-wnn, xemacs21-nomule
Download ardour-i686
Download for all available architectures

| Architecture | Package Size | Installed Size | Files |
| --- | --- | --- | --- |
| i386 | 3,585.3 kB | 13,267.0 kB | [list of files] |