Package: isoquery (3.2.3-1)
Links for isoquery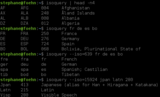 Debian Resources:
Download Source Package isoquery:
Maintainer:
External Resources:
Similar packages:
Search and display various ISO codes (country, language, ...)
This program can be used to generate a tabular output of the ISO standard codes provided by the package iso-codes.
It parses the JSON files and shows all included ISO codes or just matching entries, if specified on the command line.
Moreover, it's possible to get all available translations for the ISO standard.
Other Packages Related to isoquery
dep:

libc6 (>= 2.17) [arm64, ppc64el]

GNU C Library: Shared libraries
also a virtual package provided by libc6-udeb

dep:

libc6 (>= 2.4) [not arm64, ppc64el]

dep:

libglib2.0-0 (>= 2.16.0)

GLib library of C routines

dep:

libjson-glib-1.0-0 (>= 0.12.0)

GLib JSON manipulation library
rec:

iso-codes

ISO language, territory, currency, script codes and their translations