Paket: rmagic (2.21-5)
Links für rmagic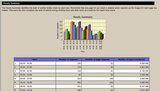 Debian-Ressourcen:
Quellcode-Paket rmagic herunterladen:
Betreuer:
Externe Ressourcen:
Ähnliche Pakete:
Report Magic for Analog
With Report Magic for Analog, anyone can create great looking website statistics reports. Report Magic for Analog uses the Computer Readable Output format created by Analog, the most popular logfile analyser in the world. Using this and some simple settings you provide, Report Magic formats beautiful reports with tables, descriptions and graphs.
Using Report Magic for Analog, you can easily maintain a consistent company image with all your reports. By designing the report format to mimic your site's colors and graphics, you can have Analog's statistics reports seem to "fit-in" with the rest of your website. Report Magic for Analog lets you set things like font, foreground and background colors, background images, color themes, and more, thus ensuring a perfect fit with your already designed site.
Andere Pakete mit Bezug zu rmagic
rec:

analog

Analyse von Web-Server-Logdateien
sug:

doc-base

Werkzeuge zur Organisation von Online-Dokumentation
rmagic herunterladen
Download für alle verfügbaren Architekturen

| Architektur | Paketgröße | Größe (installiert) | Dateien |
| --- | --- | --- | --- |
| all | 486,4 kB | 1.757,0 kB | [Liste der Dateien] |