Package: siggen (2.3.10-9)
Links for siggen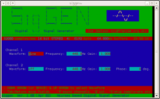 Debian Resources:
Download Source Package siggen:
Maintainer:
External Resources:
Similar packages:
Værktøjer til oprettelse af bølgeformer
Et sæt af værktøjer til imitering et laboratories signalgenerator, der genererer udgående lydsignaler fra Linuxs /dev/dsp-lydenhed. Der er understøttelse af mono og/eller stereo, samt 8- eller 16-bit lydprøver. Værktøjerne inkluderer:

 * soundinfo: viser nogle af programmeringsmulighederne for understøttelsen
   af lydsystemet, for mikserenheder /dev/mixer og DSP-enheden. Viser også
   nogle af ioctl-kaldenene i aktion.


 * signalgen: en kommandolinje-baseret signalgenerator, hvor detaljerne
   angives i kommandolinjen til generering af bølger udformet som sinus,
   cosinus, kvadrat, trekant, savtakket, puls eller støj. Frekvensen,
   frekvenshastigheden, relativ amplitude osv. kan angives gennem tilvalg
   fra kommandolinjen. Signalerne afspilles kontinuerligt ind til
   programmet stoppes. Der er mulighed for at gemme de basale, rå digitale
   lydprøver råt til en fil eller til en WAVE-formatfil.


 * swgen: en kommandolinje-baseret afrydningsgenerator. Både rydningen og
   afryddede bølgeformer kan angives, sammen med frekvensen for rydning
   og intervallet for den ryddede frekves. I øvrigt lig sgen oven for.


 * siggen: en Ncurses-baseret skærm baseret på Signal Generator for to
   seperate kanaler. På lydkort med stereo, vil de to kanaler blive
   afspillet i seperate udgange. På monokort vil de to kanaler blive
   blandet digitalt til én udgang. Typen af bølgeform, frekvens,
   amplitude, prøvefrekvens osv. angives/ændres via en skærmmenu. Den
   afspiller kontinuerligt. Ændringer i parametrene træder i kræft næsten
   øjeblikkeligt.


 * sweepgen: en Ncurses-baseret skærm baseret på Sweep-generatoren (se
   swgen og siggen oven for).


 * tones: et kommandolinjeprogram til oprettelse af adskillige
   succesive toner med varierende frekvens, og med mulighed for at
   forskellige bølgeformer, varigheder og intensiteter. Sekvensen af toner
   kan enten afspillet en enkelt gang eller gentages, eller stumperne
   kan blive skrevet til en fil i råt eller WAV-format. Dette kunne danne
   grundlag for en automatisk opringningsfunktion til tonetelefoner.


 * smix: et simpelt kommandolinje-baseret program til at hente og sætte
   mikserindstillingerne.


 * fsynth: en Ncurses-baseret realtidsgenerator til fourier-syntese.

Other Packages Related to siggen