Package: sash (3.8-5 and others)
Links for sash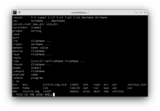 Debian Resources:
Download Source Package sash:
Maintainer:
External Resources:
Similar packages:
Enkeltstående skal
Sash tjener som en interaktiv erstatning af /bin/sh, der kan anvendes når /bin/sh ikke kan. Den er statisk kædet, og rummer mange indbyggede standardredskaber (indtast »hjælp« i prompten for en referenceoversigt). Hvis du installerede sash forud for beskadigelse af dit systems opstartsevne, så kan du muligvis reparere dit system med init=/bin/sash i opstartsprompten.
Der er også nogle, der foretrækker at have sash tilgængelig, som skal til en rodkonto (eventuelt under et andet navn, såsom sashroot). Understøttelse af konfiguration medfølger, for de som ønsker dette.
Bemærk: sash er ikke beregnet til at tjene som /bin/sh, og har færre af de interaktive funktioner tilstede i bash eller ksh. Den er designet til at være simpel og robust, for personer som har brug for at udføre nødreparation på et system.
Bemærk også: sash har ikke en indbygget fsck - fsck er for stor og kompliceret. Hvis du har brug for fsck, så skal du mindst have én partition eller disk som fungerer tilstrækkeligt godt, for at køre fsck. Mere generelt, sash er ét ud af mange værktøjer (sikkerhedskopier, værktøjer til gendannelse af sikkerhedskopier, opstartsdiske eller partitioner til nødsituationer, reservedele, test af katastrofeplaner, osv.), der hjælper dig med at redde et beskadiget system.
Other Packages Related to sash
sug:

doc-debian

Dokumentation for Debianprojektet. og andre dokumenter