Package: darkradiant (2.14.0-4 and others)
Links for darkradiant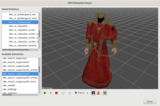 Debian Resources:
Download Source Package darkradiant:
Maintainers:
External Resources:
Similar packages:
Værktøjskælde til banedesign for DOOM3 og The Dark Mod
DarkRadiant er et redigeringsprogram til 3D-kort og baner baseret på idtech4-motorer. Programmet er baseret på GtkRadiant og fokuserer på spillene DOOM3 og The Dark Mod. Andre spil baseret på den samme motor, såsom Quake 4 kan måske også tilpasses, men er ikke eksplicit understøttet.
Darkradiant kan også bruges til at oprette frit indhold for GPL-versionen af DOOM3-motoren.
Other Packages Related to darkradiant
dep:

fonts-freefont-ttf

Skrifttyperne Freefont Serif, Sans og Mono Truetype

dep:

libc6 (>= 2.32) [not alpha, ia64, sh4]

GNU C-bibliotek: Delte biblioteker
also a virtual package provided by libc6-udeb

dep:

libc6 (>= 2.33) [sh4]

dep:

libc6.1 (>= 2.30) [ia64]

GNU C-bibliotek: Delte biblioteker
also a virtual package provided by libc6.1-udeb

dep:

libc6.1 (>= 2.32) [alpha]

dep:

libftgl2 (>= 2.4.0)

Bibliotek til at optegne tekst i OpenGL via FreeType

dep:

libgcc-s1 (>= 3.0) [amd64, s390x, x32]

GCC støttebibliotek

dep:

libgcc-s1 (>= 3.4) [alpha, sparc64]

dep:

libgcc-s1 (>= 3.4.4) [ppc64, ppc64el]

dep:

libgcc-s1 (>= 3.5) [armel, armhf]

dep:

libgcc-s1 (>= 4.2) [ia64, mipsel, sh4]

dep:

libgcc-s1 (>= 4.5) [arm64, mips64el, riscv64]

dep:

libgcc-s1 (>= 7) [i386]

dep:

libgcc-s2 (>= 4.2.1) [m68k]

GCC støttebibliotek

dep:

libgcc-s4 (>= 4.1.1) [hppa]

GCC støttebibliotek

dep:

libgl1

Leverandørneutralt GL-afsendelsesbibliotek - forældet GL-understøttelse

dep:

libglew2.1 (>= 1.12.0) [ia64]

Package not available

dep:

libglew2.2 (>= 2.2.0-4) [not ia64]

OpenGL Extension Wrangler - kørselstidsmiljø

dep:

libglib2.0-0 (>= 2.49.3) [not ia64]

GLib-bibliotek for C-rutiner

dep:

libglu1-mesa

Mesa OpenGL-redskabsbibliotek - GLU

or libglu1

virtual package provided by libglu1-mesa

dep:

libjpeg62-turbo (>= 1.3.1) [not ia64]

Libjpeg-turbo JPEG-kørselstidsbibliotek

dep:

libopenal1 (>= 1.14)

Programimplementering af OpenAL lyd-API'en - delt bibliotek

dep:

libpng16-16 (>= 1.6.2-1) [not ia64]

PNG-bibliotek - kørselstid (version 1.6)

dep:

libpython3.10 (>= 3.10.0) [not ia64]

Delt kørselsmiljøbibliotek for Python - version 3.10

dep:

libpython3.8 (>= 3.8.2) [ia64]

Package not available

dep:

libsigc++-2.0-0v5 (>= 2.8.0)

typesikker signalramme til C++ - køretid

dep:

libstdc++6 (>= 11) [not armel, ia64]

GNU Standard C++ bibliotek v3

dep:

libstdc++6 (>= 12-20220319-1) [armel]

dep:

libstdc++6 (>= 9.1) [ia64]

dep:

libunwind8 [ia64]

Bibliotek til at bestemme call-chain for et program - kørselstid

dep:

libvorbisfile3 (>= 1.1.2)

Højniveau-API for det generelle kodningsformat til lydkomprimering i Vorbis

dep:

libwxbase3.0-0v5 (>= 3.0.5.1+dfsg)

wxBase-bibl. (kørselstid) - til ikkegrafiske wxWidgets-værktøjssæt

dep:

libwxgtk3.0-gtk3-0v5 (>= 3.0.5.1+dfsg)

wxWidgets C++ grafisk brugerfladeværktøjssæt for flere platforme (GTK 3-kørselstid)

dep:

libx11-6 [sparc64]

X11 klientside bibliotek

dep:

libxml2 (>= 2.7.4)

XML-bibliotek til GNOME

dep:

zlib1g (>= 1:1.1.4)

Komprimeringsbibliotek - kørselstid
DarkMod-specifikke udvidelsesmoduler for DarkRadiant
Download darkradiant
Download for all available architectures

| Architecture | Version | Package Size | Installed Size | Files |
| --- | --- | --- | --- | --- |
| alpha (unofficial port) | 2.14.0-4 | 6,552.4 kB | 25,625.0 kB | [list of files] |
| amd64 | 2.14.0-4 | 6,680.3 kB | 22,399.0 kB | [list of files] |
| arm64 | 2.14.0-4 | 6,245.4 kB | 21,635.0 kB | [list of files] |
| armel | 2.14.0-4 | 5,980.2 kB | 18,888.0 kB | [list of files] |
| armhf | 2.14.0-4 | 6,076.8 kB | 15,772.0 kB | [list of files] |
| hppa (unofficial port) | 2.14.0-4 | 6,865.6 kB | 24,703.0 kB | [list of files] |
| i386 | 2.14.0-4 | 6,953.9 kB | 21,919.0 kB | [list of files] |
| ia64 (unofficial port) | 2.8.0-1 | 6,325.9 kB | 31,032.0 kB | [list of files] |
| m68k (unofficial port) | 2.14.0-4 | 6,659.1 kB | 21,904.0 kB | [list of files] |
| mips64el | 2.14.0-4 | 6,071.6 kB | 27,573.0 kB | [list of files] |
| mipsel | 2.14.0-4 | 6,056.2 kB | 24,196.0 kB | [list of files] |
| ppc64 (unofficial port) | 2.14.0-4 | 6,653.1 kB | 28,200.0 kB | [list of files] |
| ppc64el | 2.14.0-4 | 6,685.2 kB | 26,216.0 kB | [list of files] |
| riscv64 (unofficial port) | 2.14.0-4 | 6,627.5 kB | 20,713.0 kB | [list of files] |
| s390x | 2.14.0-4 | 6,250.1 kB | 22,863.0 kB | [list of files] |
| sh4 (unofficial port) | 2.14.0-4 | 7,174.5 kB | 21,289.0 kB | [list of files] |
| sparc64 (unofficial port) | 2.14.0-4 | 5,894.7 kB | 22,267.0 kB | [list of files] |
| x32 (unofficial port) | 2.14.0-4 | 6,696.5 kB | 20,471.0 kB | [list of files] |