Package: wpasupplicant (2:2.8+git20190713+b8491ae-1 and others)
Links for wpasupplicant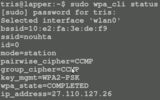 Debian Resources:
Download Source Package wpa:
Maintainers:
External Resources:
Similar packages:
Experimental package
Warning: This package is from the experimental distribution. That means it is likely unstable or buggy, and it may even cause data loss. Please be sure to consult the changelog and other possible documentation before using it.
Klientunderstøttelse af WPA og WPA2 (IEEE 802.11i)
WPA og WPA2 er metoder til at sikre trådløse netværk, hvor den første anvender IEEE 802.1X, mens den anden anvender IEEE 802.11i. Denne software tilbyder forhandling af nøgle gennem WPA-godkendelsesmekanismen, og kontrollerer tilknytningen til IEEE 802.11i-netværk.
Other Packages Related to wpasupplicant
OpenSSL engine for PKCS#11 modules

sug:

wpagui

Grafisk brugerflade for wpa_supplicant
Download wpasupplicant
Download for all available architectures

| Architecture | Version | Package Size | Installed Size | Files |
| --- | --- | --- | --- | --- |
| amd64 | 2:2.8+git20190713+b8491ae-1 | 1,233.9 kB | 3,374.0 kB | [list of files] |
| arm64 | 2:2.8+git20190713+b8491ae-1 | 1,145.0 kB | 3,250.0 kB | [list of files] |
| armel | 2:2.8+git20190713+b8491ae-1 | 1,023.1 kB | 2,850.0 kB | [list of files] |
| armhf | 2:2.8+git20190713+b8491ae-1 | 1,062.6 kB | 2,254.0 kB | [list of files] |
| hppa (unofficial port) | 2:2.8+git20190713+b8491ae-1 | 1,094.3 kB | 3,024.0 kB | [list of files] |
| i386 | 2:2.8+git20190713+b8491ae-1 | 1,329.5 kB | 3,786.0 kB | [list of files] |
| m68k (unofficial port) | 2:2.8+git20190713+b8491ae-1 | 1,102.2 kB | 3,041.0 kB | [list of files] |
| mips | 2:2.8+git20190713+b8491ae-1 | 1,124.0 kB | 3,653.0 kB | [list of files] |
| mips64el | 2:2.8+git20190713+b8491ae-1 | 1,132.0 kB | 3,810.0 kB | [list of files] |
| mipsel | 2:2.8+git20190713+b8491ae-1 | 1,138.5 kB | 3,653.0 kB | [list of files] |
| powerpcspe (unofficial port) | 2:2.8-2 | 1,077.9 kB | 3,490.0 kB | [list of files] |
| ppc64 (unofficial port) | 2:2.8+git20190713+b8491ae-1 | 1,254.4 kB | 4,518.0 kB | [list of files] |
| ppc64el | 2:2.8+git20190713+b8491ae-1 | 1,302.9 kB | 4,326.0 kB | [list of files] |
| riscv64 (unofficial port) | 2:2.8+git20190713+b8491ae-1 | 1,098.2 kB | 2,541.0 kB | [list of files] |
| s390x | 2:2.8+git20190713+b8491ae-1 | 1,094.7 kB | 3,402.0 kB | [list of files] |
| sh4 (unofficial port) | 2:2.8+git20190713+b8491ae-1 | 1,331.0 kB | 2,853.0 kB | [list of files] |
| x32 (unofficial port) | 2:2.8+git20190713+b8491ae-1 | 1,243.5 kB | 3,274.0 kB | [list of files] |