Package: gnome-packagekit (3.32.0-1)
Links for gnome-packagekit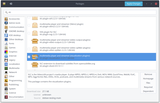 Debian Resources:
Maintainers:
External Resources:
Similar packages:
Experimental package
Warning: This package is from the experimental distribution. That means it is likely unstable or buggy, and it may even cause data loss. Please be sure to consult the changelog and other possible documentation before using it.
Grafisk distributionsneutral programhåndtering for GNOME
PackageKit tillader udførelse af simpel programhåndteringsopgaver over en DBus-grænseflade f.eks. opdatering af mellemlageret, opdatering, installation og fjernelse af programpakker eller søgning efter multimedieformater og filhåndteringer.
Denne pakke indeholder et GTK+-baseret program for pakkeinstallation og pakkefjernelse, et program til at se systemopdateringer, et simpelt redigeringsprogram for arkivet og et PackageKit-konfigurationsværktøj samt en fremviser for pakkeinstallationens historik.
Other Packages Related to gnome-packagekit
håndter de arkiver du installerer programmer fra (gtk)
Download gnome-packagekit