Package: file-roller (3.32.1-1) [debports]
Links for file-roller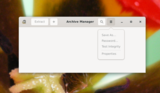 Debian Resources:
Download Source Package :
Not found
Maintainers:
External Resources:
Similar packages:
Experimental package
Warning: This package is from the experimental distribution. That means it is likely unstable or buggy, and it may even cause data loss. Please be sure to consult the changelog and other possible documentation before using it.
Arkivhåndtering til GNOME
Filpakker er en arkivhåndtering til GNOME-miljøet. Den giver dig mulighed for at:

 * Oprette og ændre arkiver.
 * Se indholdet af et arkiv.
 * Se en fil, der er indeholdt i et arkiv.
 * Udtage filer fra arkivet.

Filpakker understøtter følgende formater:

 * Tar (.tar) arkiver, herunder dem der er komprimeret med
   gzip (.tar.gz, .tgz), bzip (.tar.bz, .tbz), bzip2 (.tar.bz2, .tbz2),
   komprimere (.tar.Z, .taz), lzip (.tar.lz, .tlz), lzop (.tar.lzo, .tzo),
   lzma (.tar.lzma) og xz (.tar.xz)
 * Zip-arkiver (.zip)
 * Jar-arkiver (.jar, .ear, .war)
 * 7Z-arkiver (.7z)
 * ISO9660 cd-aftryk (.iso)
 * LHA-arkiver (.lzh)
 * Archiver-arkiver (.ar)
 * Comic book-arkiver (.cbz)
 * Enkeltfiler komprimeret med gzip (.gz), bzip (.bz), bzip2 (.bz2),
   komprimer (.Z), lzip (.lz), lzop (.lzo), lzma (.lzma) og xz (.xz)

File-roller kan udtrække de følgende formater:

 * Cabinet-arkiver (.cab)
 * Debians binære pakker (.deb)
 * Xar-arkiver (.xar)

Filpakker udfører ikke selv arkivhandlinger men er afhængig af standardværktøjer til dette.
Other Packages Related to file-roller
sug:

arj

Arkivprogram for .arj-filer

sug:

lha

Package not available

sug:

lzip

program til tabsfri komprimering af data baseret på LZMA-algoritmen

sug:

lzop

hurtigt komprimeringsprogram

sug:

ncompress

originale Lempel-Ziv compress/uncompress-programmer

sug:

rpm2cpio

værktøj til at konvertere RPM-pakke til CPIO-arkiv

sug:

rzip

Komprimeringsprogram for store filer

sug:

sharutils

shar, unshar, uuencode, uudecode

sug:

squashfs-tools

Værktøj til at oprette og tilføje til squashfs-filsystemer

sug:

unace

udtræk, test og vis .ace-arkiver

sug:

unalz

Dearkivering for .alz-filer

sug:

unar

Udpakningsprogram for en række forskellige filformater

sug:

unzip

Udpakningsprogram til .zip-filer

sug:

xz-utils

Pakningsværktøjer i XZ-format

sug:

zip

Arkivprogram for ».zip-filer«

sug:

zoo

Manipuler zoo-arkiver
Download file-roller
Download for all available architectures

| Architecture | Package Size | Installed Size | Files |
| --- | --- | --- | --- |
| powerpcspe (unofficial port) | 649.1 kB | 4,521.0 kB | [list of files] |