Package: bzflag (2.0.16.20100405+nmu1)
Links for bzflag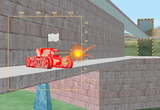 Debian Resources:
Download Source Package bzflag:
Maintainer:
Similar packages:
3D bitevní tanková hra z pohledu hráče
BZFlag je 3D tanková bitevní hra určená pro více hráčů i platforem, která uživateli umožňuje hru proti všem v síťovém prostředí. K dispozici je pět týmů: červení, zelení, modří, nachoví a lumpové (jejich tanky mají černou barvu). Zničením tanku nepřítele tým skóruje a vyhrává, zatímco zničením tanku spoluhráče prohrává. Lumpové nemají žádné spoluhráče (ani ostatní lumpy), takže nemohou spoluhráče zabít a ani nemají týmové skóre.
K dispozici jsou dva hlavní styly hry: capture-the-flag a free-for-all. V capture-the-flag každý tým (kromě lumpů) má svoji základnu a každý tým s alespoň jedním hráčem i týmovou vlajku. Cílem je zajmout vlajku nepřítele. To se provede přenesením vlajky do své týmové základny. To zničí všechny hráče zajatého týmu, odečte bod ze skóre tohoto týmu a přidá ho vašemu týmu. Ve hře free-for-all neexistují žádné vlajky nebo týmové základny. Cílem je jednoduše získat co nejvyšší skóre.
Tento metabalíček nainstaluje klientskou i serverovou část.
Other Packages Related to bzflag
Download bzflag
Download for all available architectures

| Architecture | Package Size | Installed Size | Files |
| --- | --- | --- | --- |
| all | 58.2 kB | 154.0 kB | [list of files] |