Package: backuppc (3.3.2-2)
Links for backuppc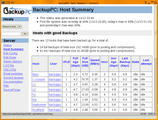 Debian Resources:
Download Source Package backuppc:
Maintainers:
External Resources:
Similar packages:
Velmi výkonný podnikový systém pro zálohu počítačů
BackupPC používá k provádění záloh disková zařízení a ne pásky. To vám umožní používat takové věci, které v ostatních záložních nástrojích nenaleznete:

 * Chytré společné schéma minimalizuje zatížení disku a propustnost disku.
   Identické soubory napříč více různými zálohami stejných nebo různých
   počítačů jsou uloženy pouze jednou, což šetří diskový prostor a nutnost
   zápisu na disk. Toto je také známé jako "odduplikování dat".
 * Volitelná komprese snižuje nároky na diskový prostor. Nároky na procesor
   přesto zůstávají nízké, protože se komprimují pouze nové soubory (ty,
   které se dosud nenachází v záloze).
 * Užitečné uživatelské rozhraní používá http/cgi a administrátorům umožní
   prohlížet logy, konfiguraci, aktuální stav a uživatelům pak umožňuje
   inicializovat nebo rušit proces záloh, procházet a obnovovat soubory
   ze záloh, atd.
 * Na straně klientského počítače není potřeba žádný specializovaný SW.
   Používá se pouze protokol WinXX a smb. Na linuxových a unixových
   klientech to je protokol rsync a tar (přes ssh/rsh/nfs).
 * Pružné možnosti obnovy. Jednotlivé soubory je možno stahovat ze záloh
   přímo (za použití rozhraní CGI) Archívy zip či tar vybraných souborů
   či adresářů je možno stáhnout přímo z rozhraní CGI.
 * BackupPC podporuje mobilní zařízení, tzn. připojení laptopů do sítě
   a jejich dynamické IP adresy přidělené z DHCP.
 * Pružné konfigurační parametry umožňují provádění vícenásobných
   paralelních záloh.
 * a mnohem více, zbytek naleznete v manuálu...

Other Packages Related to backuppc
sug:

certbot

automatically configure HTTPS using Let's Encrypt

or acme-tiny

letsencrypt tiny Python client

or acmetool

automatic certificate acquisition tool for Let's Encrypt

or dehydrated

ACME client implemented in Bash

or lacme

ACME client written with process isolation and minimal privileges in mind

or lecm

Let's Encrypt Certificate Manager

or lego

Let's Encrypt client

sug:

par2

PAR 2.0 compatible file verification and repair tool

sug:

w3m

Pager s podporou prohlížení WWW a výtečnou podporou tabulek/rámů

or www-browser

virtual package provided by chromium, dillo, dwb, edbrowse, elinks, epiphany-browser, falkon, firefox, firefox-esr, hv3, iceweasel, konqueror, links, links2, lynx, lynx-cur, midori, netrik, netsurf, netsurf-fb, netsurf-gtk, sugar-browse-activity, surf, uzbl, w3m, xemacs21-gnome-mule, xemacs21-gnome-mule-canna-wnn, xemacs21-gnome-nomule, xemacs21-mule, xemacs21-mule-canna-wnn, xemacs21-nomule
Download backuppc
Download for all available architectures

| Architecture | Package Size | Installed Size | Files |
| --- | --- | --- | --- |
| alpha (unofficial port) | 481.2 kB | 2,280.0 kB | [list of files] |
| amd64 | 481.1 kB | 2,284.0 kB | [list of files] |
| arm64 | 481.0 kB | 2,276.0 kB | [list of files] |
| armel | 480.9 kB | 2,276.0 kB | [list of files] |
| armhf | 480.8 kB | 2,276.0 kB | [list of files] |
| hppa (unofficial port) | 481.4 kB | 2,276.0 kB | [list of files] |
| hurd-i386 | 481.0 kB | 2,276.0 kB | [list of files] |
| i386 | 481.2 kB | 2,284.0 kB | [list of files] |
| kfreebsd-amd64 | 481.0 kB | 2,276.0 kB | [list of files] |
| kfreebsd-i386 | 481.2 kB | 2,276.0 kB | [list of files] |
| m68k (unofficial port) | 480.9 kB | 2,280.0 kB | [list of files] |
| mips | 481.1 kB | 2,276.0 kB | [list of files] |
| mips64el | 481.2 kB | 2,277.0 kB | [list of files] |
| mipsel | 481.1 kB | 2,276.0 kB | [list of files] |
| powerpcspe (unofficial port) | 481.2 kB | 2,336.0 kB | [list of files] |
| ppc64 (unofficial port) | 481.4 kB | 2,337.0 kB | [list of files] |
| ppc64el | 481.4 kB | 2,337.0 kB | [list of files] |
| riscv64 (unofficial port) | 480.9 kB | 2,277.0 kB | [list of files] |
| s390x | 481.0 kB | 2,276.0 kB | [list of files] |
| sh4 (unofficial port) | 480.9 kB | 2,276.0 kB | [list of files] |
| sparc64 (unofficial port) | 480.9 kB | 2,281.0 kB | [list of files] |
| x32 (unofficial port) | 481.0 kB | 2,284.0 kB | [list of files] |